Society
Cutting class consciousness
There is much that we, as parents and teachers, can do to help nurture kindness in children
Aditi Garg
Everyday sensational headlines make us feel uneasy even as we sit in our air-conditioned offices or homes. But very few of us give it more than a fleeting thought. It is but natural for such indifference to rub off on our children; not just that induced by news items but also the lack of sensitivity for those around us. Are we heading towards a selfish world or are we already there. To make the world a better place, teaching kids empathy is as important as giving them good education and caring for their health, if not more.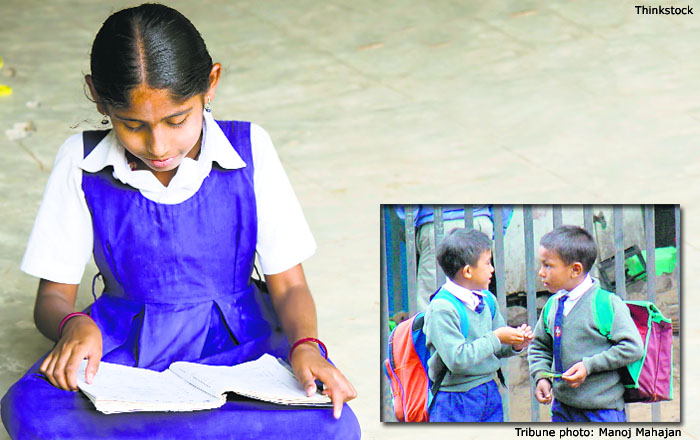 Children should be sensitised towards their peers who come from economically weaker backgrounds
There is much that we as parents and teachers can do to help nurture kindness in those who are the future of the world. Rakhee Bathija, director of Bumble Bee Pre-school, says, "I believe that just as a muscle you use more becomes stronger, every child has the innate capacity to feel compassion and it is only a matter of practicing to use it. It is how they see their parents solve conflicts, respond to their queries, treat domestic help and care for a pet that makes all the difference. At school, the warmth of the teacher's voice, her greeting in the morning, concern not aggression for an unfinished task and other actions are enough to instil compassion in children. Focusing on human virtues along with academics is the key."
The seeds that we sow today are what we shall reap tomorrow. If we are not concerned about our surroundings and the people around us, how can we expect our kids to value any of it? With aggression becoming rampant even in toddlers and kids barely into their teens, bullying has become a big problem which stems from a false sense of superiority. Passing snide remarks is no longer confined to school hours and continues unabated and even worsens online on social media websites. The increasing incidence of kids shooting innocent peers in the US is one such repercussion that directly or indirectly stems from feelings of inadequacy and differential treatment.
A counsellor with St Kabir Public School, Chandigarh, Roopali Wirk says, "While parents play a big role in modelling the emotional intellect of kids, schools also have an inherent responsibility. Projects such as visits to old age homes encourage kids to feel for those less fortunate than them. The CBSE has an excellent value education kit which, if followed, can be very helpful. Like we reward academic achievements, it would be quiet motivating for kids if schools reward positive behaviour too. Also, it is possible and a must to teach them emotional communication through actions, debates and highlighting such incidents in popular culture like TV, movies and books."
Many schools claim to have special programmes aimed to sensitise kids towards their peers who come from lesser backgrounds and offer facilities that enable those kids who are differently-abled to be able to study alongside the rest of them. A study, Civic Learning at the Edge: Transformative Stories of Highly Engaged Youth, says that parents who had their kids participate in compassionate acts early on in life developed these skills to a higher degree. The author of the study, Marilyn Price-Mitchell PhD, recommends providing opportunities to practice compassion, helping children understand and deal with anger and teaching them self-regulation as ways to raising compassionate children.
Bangalore-based Sam Prakash, father of a 10-year-old boy who studies in a leading school, feels saddened by the way kids talk to people who serve them. "Believe me, it is not pleasant," he says. Rahul (name changed) from Chandigarh, barely in the fourth standard, feels strongly about not inviting kids from the economically weaker section in his class to his birthday parties. When prodded, he says, "If I invite them, my friends will refuse to attend my party." With such situations at hand, it would be nice if teachers could reward those behaving in a desirable manner to encourage others.
Rashi Sethi, a teacher and mother to two children, feels it is an active process where you teach by example, every day of the week, throughout the year. It is something that has to be imbibed through learning by watching. She says, "It was a proud moment for me when my daughter was keener than me in extending help by way of donation for the Kashmir flood victims. We may think kids are not very attentive towards what happens around them but you will be surprised how they will behave exactly the way you do with your domestic help. At school, too, growing up alongside the less fortunate kids enables them to see them as equals, which is an important lesson in empathy."
Another teacher from DPS, Chandigarh, Harmeen Kaur, echoes her opinion that teaching by example is the best way to go. She says, "Being totally absorbed in the digital bubble leaves less scope for interaction between parents and children. We as teachers try to inculcate values in kids and if the huge collections for the Flood Relief Fund are anything to go by, they are learning their values well."
In order to heal the world and make it a better place indeed, enabling the future to be more compassionate is a big step forward.

soul talk
Get divorced 'on good terms'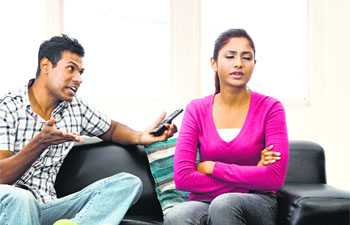 When sorting out fiery issue, do it in a a restaurant or cafe. Spouses tend to act more appropriately in public
Washington: A psychologist has come up with nine tips that he claims can help achieve an "amicable divorce." Michael Hakimi, practices at Loyola University Health System and still remains good friends with his wife after their 20-year marriage ended in divorce. He said that it was important to have a harmonious divorce.When it became a fight, the only winners were the lawyers.

Make effort to speak in a calm, clear and rational manner, and accept responsibility for your own actions.


Avoid blaming each other and digging up the past issues.


When having a difficult discussion, do it in a a restaurant or cafe. Spouses tend to act more appropriately in public. Don't consume alcohol while discussing marital issues.


Do not use hurt feelings as a weapon to lash out at one another. Try to resolve hurt feelings in therapy constructively.


Do not bad mouth each other or discuss marital problems in front of the children. Tell them they are loved by both parents, and that they were blameless for the divorce. Get therapy for the children, if needed.


No matter how emotionally your spouse reacts, do not react the same way. You have the power to control your own behavior and emotions. If you stay calm, this could have a calming effect on your spouse.


If your spouse gets upset about something you say or do, try to apologise, and propose to continue the conversation later.


Ask around for the right marriage therapist, as they can help achieve an amicable divorce. An experienced therapist with a master's degree also proves a good choice, provided the therapist was a licensed marriage and family therapist or a licenced clinical social worker.


If you can't agree on child support, dividing property and assets, taxes, etc., hire a divorce mediator to help you negotiate an agreement. Pick one you both feel comfortable with. — Agencies