Entertainment
Animal instinct
From snakes to dogs to horses, animals have played a crucial role in many Hindi movies, the latest being Akshay Kumar-starrer Entertainment
Shoma A. Chatterji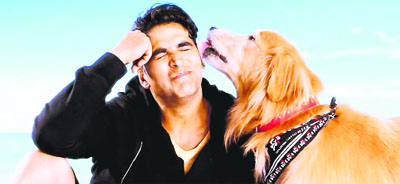 Entertainment
When I was a kid, our father took us to visit one Mr Raj, one of the first animal trainers in Mumbai, who not only trained pets for everyone but also kept a veritable zoo in his home in Santa Cruz in Mumbai. Film people would hire his pets for use in films. He insisted that he would be present during shooting whenever his pets were featured. There was a beautiful white cockatoo with a yellow crown, who talked almost like a human being. Dogs of all breeds came crowding around him, waiting to be petted and fondled. There were some talking parrots, a few pigeons and some cats. One cannot forget that touching scene.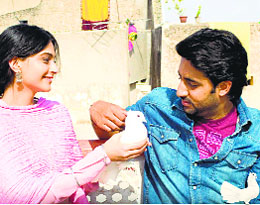 Delhi-6
The scenario has changed since Haathi Mera Saathi. Akshay Kumar went overboard with the pre-release marketing of his Entertainment featuring Junior, a Golden Retriever. All the costumes used in the film have been donated to Youth Organisation in Defence of Animals. The organisation auctioned the costumes and the money collected from the sales was used to benefit stray animals.
The use of an animal as a character has one big advantage. The film, irrespective of its story, or audience response, draws happy response from a neglected segment of audience — the children. Children nourished on a steady diet of Mickey Mouse and Donald Duck animation series or, Walt Disney films like 101 Dalmatians would lap up any film that features an animal in a lead role. Ang Lee's Life of Pi drew huge audience response from children across the world while many adults felt betrayed when they learnt that Richard Parker, the tiger who befriended Pi and then disappeared into the forests suddenly, was a computer-generated image (CGI). To children, this made no difference. Many critics drew and quartered the film for its over-generous use of CGI. In retrospect, one feels this is a more sensible, viable and safe alternative to using real animals.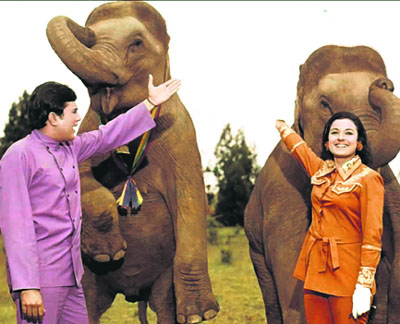 Haathi Mere Saathi
Tuffy, the white Pomeranian played many roles in Hum Aapke Hain Kaun. He umpired cricket matches as skillfully as he took care of the motherless infant, to carrying love notes and playing Cupid to lovers about to be separated by a twist of fate. Dogs can be equally vindictive. Teri Meharbaniyan (1985) Ram (Jackie Shroff)'s pet Moti hunted down his master and his wife's (Poonam Dhillon) killers and tore them with his claws and teeth. Children cheered and clapped whenever Moti came on the scene. Moti was the hero of the film. Dhanno, the fearless mare in Sholay is another example.
Ramu of Haathi Mere Saathi became so famous and such a big hit with the entire audience that when he really passed away, an obit note appeared in all national dailies of India. Designed and conceived as a mainstream masala film, Haathi Mere Saathi is a beautiful story about the relationship between an elephant and his trainer (Rajesh Khanna) who prefers to stand by Ramu when his wife, suspicious of the animal, forces him to choose between Ramu and his family. Ramu proves his loyalty and his love for his master and his family when he sacrifices his life to save his master's wife.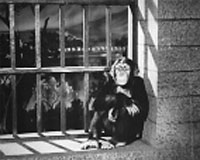 Insaniyat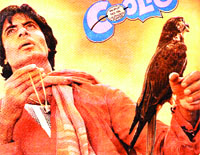 Coolie
Nawazuddin Siddique, not a dog lover, had to interact with a labrador in Buddhadeb Dasgupta's yet to be released film Anwar Ka Ajeeb Kissa. "I was apprehensive about the dog but the director convinced me. Yet, I had to give 25-30 retakes for simple shots because the dog refused to comply. Like children, animals, too, can be very moody. But the effort was well worth it because the scenes look seamless on the big screen," says Siddique.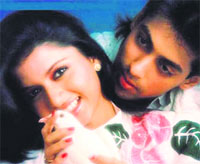 Maine Pyar Kiya
In Khoon Bhari Maang, the character portrayed by Rekha had to struggle with a crocodile. But her personal pets console her during her misery when her husband wanted her dead. The Animal Welfare Board of India does not permit exposing animals to dangers during shooting such as exposing them to explosives, making them jump or fight or even using abusive language against them. Every kind of bird and animal has featured in a Bollywood film at one time or another. Snakes (Nagin, Nagina, Dudh Ka Karz), an eagle (Coolie), a mare (Sholay), a chimpanzee (Insaniyat) and Tere Bin Laden featured a rooster and his antics are the highlights of the film The use of animals in Indian films goes back to Fearless Nadia in the 1930s and 1940s. She had a German Shepherd called Gunboat.
Animal supplier Shankar Narayan Iyer has worked for more than 200 films in 20 years. He has supplied butterflies, marmots, elephants and monkeys to producers. He networks with pet owners, animal farmers and trainers from around the country to build a database of potential animal stars. "I spend 100 days with the animal before the actual shoot to get to know its habits and body clock," he sums up.