Entertainment
Why James Dean was such an icon
Deanís depiction of a confused, even rebellious youth, in his films gives a telling account of the youth in those transient times
Ervell E. Menezes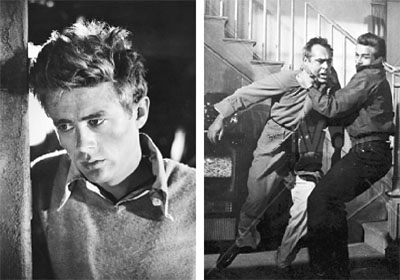 Stills from James Deanís East of Eden and Rebel Without A Cause
Does the name James Dean ring a bell? No, not to todayís generation. But in the mid-1950s, it rang a gong, loud and clear. Deanís sudden death in a car crash on the No 1 Coastal Highway between San Francisco and Los Angeles further accentuated the loss. After just three films, he had become a cult figure.
The films are East of Eden (1955), Rebel Without A Cause (1955) and Giant (1956), and his depiction of a confused, even rebellious youth is a telling account of youth in those transient times, after rockíníroll and flower power and before moon-landing.
East of Eden is based largely on the John Steinbeck novel of the same name with the title referring to the Biblical story of Cain and Abel. The two brothers here are Cal (James Dean) and Aaron Trask (Richard Dovalos), who are always in conflict, thinking or even believing that their dad Adam (Raymond Massey) loves the other better. To make matters worse, Aaronís girlfriend Abra (Julie Harris) soon finds herself attracted to Cal.
Set in the Salinas Valley and Monterey on the West Coast, it is known as Steinbeck country, the same area where Dean died in the car crash. Back in the mid-1980s that coastal drive from San Francisco to Los Angeles was the best part of my tour of the United States. One has a great view of the Pacific Ocean, which seems bluer than the Atlantic from high in the mountains and then down bang at the sea-level. It is just therapeutic.
But to get back to Elia Kazanís East of Eden, the Trasks are a struggling middle-class family and though they are told their mother "died and went to heaven", she is actually alive and running a brothel in neighbouring Monterey. It would be Cal to ferret out this info and he doesnít waste time to go and meet her for a loan. It is a powerful scene and Jo Van Fleet is excellent in the role of Kate.
It is a family drama, pure and simple, but Kazan does full justice to it, showing the religious leanings but steering clear of over-sentimentality. Will the brothers get over their differences or end like their Biblical counterparts?
Kazan does a tightrope walk capturing a wide gamut of emotions and has a host of talented performers with James Dean leading the cast and ably supported by Richard Dovalos and Raymond Massey in this absorbing melodrama.
Nicholas Rayís Rebel Without A Cause is a throbbing story of three teenagers looking for love, direction and purpose in their seemingly empty lives. They are Jim Stark (James Dean), his girlfriend Judy (Natalie Wood) and their common friend John "Plato" Crawford (Sal Mineo, small puff et al).
It was a time of open convertibles, wild parties and a deadly car game called "chicken" where two drivers dare each other before one "chickens out". And one of the gang indeed meets his tragic end. All this is narrated against the backdrop of parental indifference or lack of love ó the familiar generation gap that plagues us from time to time. Director Ray has all these elements beautifully fused together to create a tense, exciting melodrama that have made it a cult movie.
The iconic Dean is brilliant and his bright face on the poster of this film still stays etched in memory and he is ably supported by a young and vivacious Natalie Wood as she breezes through the drama with consummate ease with the diminutive Sal Mineo a close third. Nicholas Ray has been one of the most underrated directors of his time.
George Stevensí Giant is Deanís last film and is centred on a wealthy Texas ranching family the Benedicts headed by "Bick" (Rock Hudson) and wife Leslie (Elizabeth Taylor). Bickís spinster sister Luz (Mercedes McCambridge) is the fly in the ointment.
Into this set-up enters ranch hand Jett Rink (James Dean) first infatuated by the beautiful Leslie and much later by her daughter Luz Benedict II (Carroll Baker). I saw the film much later but its overlong 201-minute duration works against it, despite director Stevens best efforts. It enters the doldrums during the Benedict familyís exploration of its oil potential and never moves out. Dean is his iconic self in this his swansong but ravishing young Carroll Baker surely stretched Ms Taylor for top honours.
But letís end on Deanís women and he is believed to have been very fond of Pier Angeli and they spent much time walking hand in hand on the Californian beaches. He also dated Ursula Andress, that is much before that opening scene in Dr No coming onto the beach dripping profusely to be later called "Undress" But a story goes that Marlon Brando, who also dated her, was keen to know who was the better lover. A question which apparently remains unanswered.