M A I N N E W S
Economics Nobel for Frenchman Jean Tirole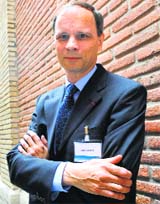 French economist Jean Tirole
Stockholm, October 13
French economist Jean Tirole won the Nobel Prize for Economics today for research on market power and regulation.
The Royal Swedish Academy of Sciences cited Tirole for clarifying "how to understand and regulate industries with a few powerful firms". Tirole (61) works at the Toulouse School of Economics in France.
"From the mid-1980s and onwards, Jean Tirole has breathed new life into research on such market failures," the academy said, adding his work has strong bearing on how governments deal with mergers or cartels and how they should regulate monopolies.
"In a series of articles and books, Tirole has presented a general framework for designing such policies and applied it to a number of industries, ranging from telecommunications to banking," the academy said.
Tirole, during phone interviews, said he was "so moved" upon being awarded this year's economics prize. On the regulation on the banking industry globally, Tirole said governments "have to do more", especially in terms of regulations on the liquidity.
But he also emphasised that regulation as such "has to be light enough so as not to thwart entrepreneurship", and that governments should "intervene only when necessary". The economics prize completed the 2014 Nobel Prize announcements. — Agencies
Taming powerful firms
Jean Tirole (61), who works at the Toulouse School of Economics in France, has since mid-1980s researched extensively on understanding market failures
He has made key theoretical contributions on understanding and regulating industries with a few 'powerful firms'
His work has strong bearing on how governments deal with mergers or cartels and how they should regulate monopolies