CENTRESPREAD
The ideal idol
An aesthetic way of invoking the blessings of the Almighty, these figurines by top designers are an exquisite addition to the mantlepiece. These make great presents too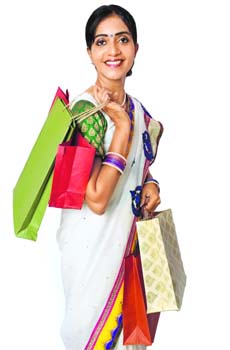 Scriptures, mythology and holy books were probably the first sources that gave people an idea as to how gods looked like. It was in the temples, patronised by the royalty that idols were for the first time given a shape. These can still be seen in ancient shrines, which vaguely defined the human-like appearance of gods. Deities as we see them today were given a shape much later by Raja Ravi Varma in his famous paintings. Naturally, he became the originator of a template that we still follow. It was his imagination of Saraswati with veena in her hands or Yashoda with Krishna that we all took to and started believing in.
From paganism to idol worship to designer idol sculptures, makeover of gods has come a long way. Today making figurines of deities is a billion-dollar industry. Besides the usual sculptures and idols makers, corporate houses, too, are doing brisk business by manufacturing and designing idols of all faiths and beliefs. Joining the sales pitch are international idol makers too. Several Indian names like Ravissant and 2 Divine are exploring this business opportunity, besides the international idol-maker giants like London-based Frazer and Haws, the Spanish firm Lladro, adding to the bouquet of Indian gods and goddesses.
The materials used in making of the idols are clay, terracotta, resin, porcelain, marble, stone, and precious metals like silver and gold. Even if the idols are plain looking, the adornments make these precious.
Ravissant uses resin as the base material for most of its idols while Lladro favours high-quality porcelain. For clay idols from its house, 2 Divine sources clay from the bank of the Ganges, making the idols much more alluring to the devotees. Most jewellery designers come out with idols of Ganesha, Lakshmi, Krishna, Durga, Satya Saibaba and other deities in pure silver.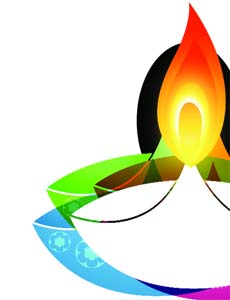 Corporate houses take great care to hire idol makers who are expert at designing and giving final shape to sculptors. In fact, Lladro even takes care to give credit to the sculptor by mentioning the name alongside the idol. For example, Lladro's Krishna is made by one Virginia Gonz`E1lez while Divine Love featuring Radha and Krishna is made by Marco Antonio Noguer`F3n, so on and so forth. Interestingly, each idol is numbered making the owner proud of his possession.
Most of the marble idols are made in Jaipur. Every street in Jaipur has shilpkars employed, who are always found chiseling marble to give a perfect look to a particular deity. Likewise Ganesha idols, especially made during Ganesh festivals, are made in Maharashtra and idols of Durga are sculpted in West Bengal. Stone and wood carvers of South India are very famous for their artwork.
It's the embellsihments which increases the price of these idols. Jewellery houses use semi-precious to precious stones set in precious metals to enhance the beauty of idols and generally make-it-to-order. While others use sterling silver and 14,18 or 22 carat gold leaves to give these an opulent look.
If you wish to embellish the idol statue that you have at home, help is at hand. Divyavastra is a one-stop outlet for icon apparel and made-to-order clothes, usually made from brocade and enhancing it with sterling silver, gold, gems and precious stones, depending on how much you are willing to shell out. Their clothes are completely custom made. The employees visit each devotee's place, measure the idols and then stitch the apparels.
Price of idols in India depends on the base material used, embellishments and size. So we might get an idol starting from Rs 50 and it might go up to lakhs and sometimes into crores as well! More than the idol, it's the clothing and the precious metal embellishments which jacks up the prices.
If one browses through the net, one will get an idea of the variety of idols available, the prices and also from where these can be purchased. You can even get an idea about the nearest stores where these are available and can get a chance to pick and choose. — SKB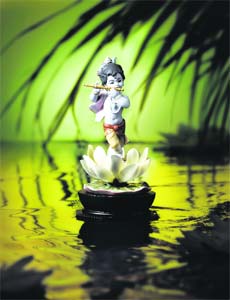 Object of art
This Bal Krishna's sculpture is planted on a white lotus with a green large leaf at the bottom. Made from Porcelain, this idol from Lladro has a calming effect. Standing on a small-wooden stand, this is one idol for devotees of Krishna. The piece is one of the best sellers from the house of Spanish sculpture makers.
Price: Rs 70,000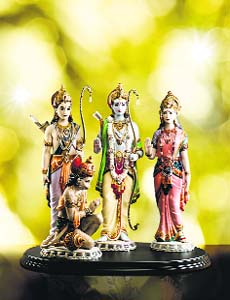 Exquisite in make
This piece by Lladro has Rama, Sita and Lakshman with their ardent disciple, Hanuman. The four idols, hand sculpted in high-quality porcelain from Lladro, will make your place of worship look beautiful. The colours used for clothes add to the grace of this piece of art. Even the bow and arrow and jewellery worn by the four statues have a real feel to it. Placed on a wooden stand, these idols can be bought separately also.
Price: Rs 8,50,000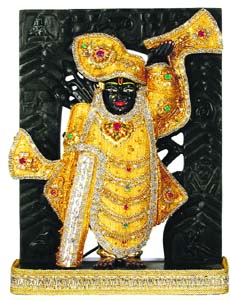 A classic piece
Sculpted in black marble, the idol of Sreenathji is a delight to look at. Draped in brocade and embellished with sterling silver and 18 carat gold, the idol is a thing of beauty.
Price: Rs 85,000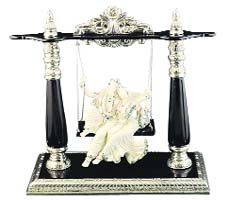 In full swing
Radha-Krishna duo on a swing depicts the love they had for each other. Idols made of resin from Ravissant are decorated with sterling silver and semi-precious stones and placed on a swing made of wood and silver. The wooden poles on which the jhula rests is also decorated with sterling silver and so is the base of the figurines.
Price: Rs 91,000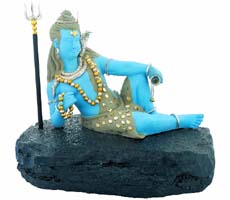 Touch of gold
The terracotta idol of Shiva from 2 Divine, is made from clay, which has been sourced from the banks of River Ganga. Painted blue, it is adorned with jewellery made in white, gold-plated silver and semi-precious stones. The trishul is also made from black terracotta and has a white silver tip.
Price: Rs 86,800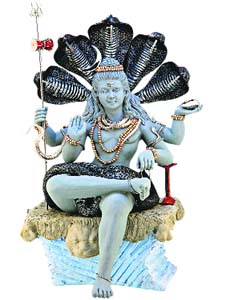 Magic of silver
This hand-crafted idol with a five-headed Snake God forming the backdrop in mixed media and sterling silver is a special sculpture from Frazer & Haws. It is beautifully crafted and makes for an ideal gift this Diwali. In fact, a lot of orders have already been placed for the striking gift item.
Price: Rs 1,74,000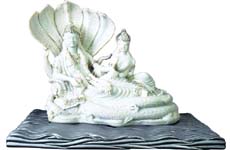 Aesthetically designed
The silver base of this hand-crafted sculpture resembles sea waves. Both Vishnu and Lakshmi are resting on the five-headed Snake God. The idols made in resin from Ravissant are artistically decorated with white-sterling silver making the figurines appear serene and pious.
Price: Rs 1,01,000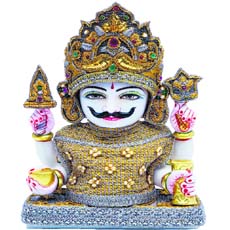 Brilliance of brocade
The beauty of this hand-crafted idol is enhanced with the beautiful clothes it is dressed in. The marble idol from Jaipur of Nakoda Bervaji is draped in brocade clothes made from Divyavastra. It is also made in sterling silver and 18 carat gold. To keep the brilliance of precious metal intact, rhodium plating and anti-tarnish has been used.
Price of idol plus dress: Rs 68,500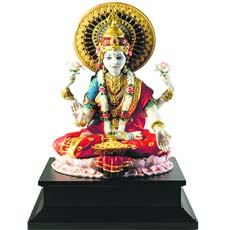 Splash of colour
Sculpted in high-quality porcelain, this Lakshmi idol from Lladro looks exquisite. The Goddess of Wealth is placed on a lotus flower. The highlight of this idol is the colours. Different colours are used for the drape of the saree and design of jewellery. The beauty of the pink lotus and even the halo behind her head are breathtaking.
Price: Rs 8,10,000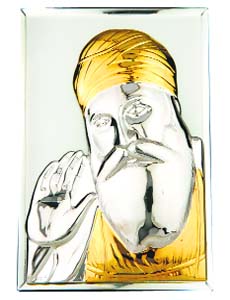 On the collector's list
Frazer and Haws have brought out a beautifully contoured plaque of Guru Nanak Dev on a sterling-silver sheet with a mirror-glass back. The serene looking plaque in 24 carat gold gilt is a collector's item for sure.
Price: Rs 40, 200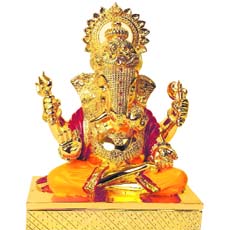 Dazzling golden
Crafted in marble, this idol of Ganesha from P. N. Gadgil house of jewellery looks quite attractive in its bright golden-yellow colour. Small in size, it would be ideal for your living room or as a gift.
Price: From Rs 8,000 to Rs 30,000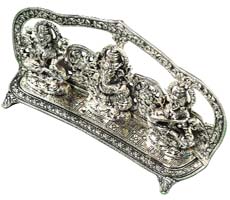 Worth the money
There is always a demand for décor stuff that has an appeal of an antique to it. Idols of Sarswati, Ganesha and Lakshmi by limeroad.com is an alluring buy. Seated on a beautifully carved metal bench, the three idols in white metal with antique finish would enhance the beauty of your abode.
Price: Rs 2,690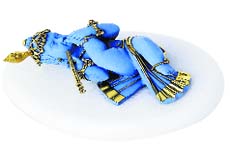 Precious little
This sculpture has Lord Krishna sitting on a white rock playing flute. This surely will bring peace to your home. Made from off-white Italian marble from Alchemy De Luxe, it has Krishna draped in a dhoti and an angvastra. Decorated with 24 carat-gold leaf and Swarovski crystals, it will make for a gift ideal for a special friend.
Price: Rs 45,000
Crafted to perfection
Idols of Radha Krishna are beautifully placed on a large rock of rose-quartz base that resembles a pool of water with lotuses and swans adding to the drama. Known for their divine love, this handcrafted idol in mixed media with intricate detailing of sterling silver and 24 carat gold gilt is a limited edition product from Frazer and Haws.
Price: Rs 4,95,000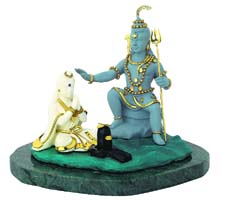 Matters of substance
Rarely do we get terracotta idols of Shiva in the posture where he is blessing his eldest son, Kartikeya. The idols from 2 Divine, are made from clay, which has been sourced from the mudflats of River Ganga. The colour blue has been used to paint Lord Shiva, and white for his son. The Shivlinga has been embellished with pure silver and semi-precious stones. The base is made from green marble.
Price: Rs 95,000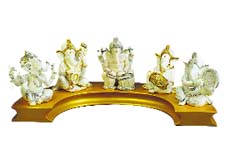 Rhythm divine
It's a beautiful set of five Ganesha playing different musical instruments like flute, sitar, tabla, mridangam and daphali. The idols from Ravissant made of resin have been embellished with sterling silver and gold-plated silver. Placed on a polished wooden stand, these would look pretty in a place of worship and also as a showpiece.
Price: Rs 55,000