Entertainment
A change of pace for Emraan

Bollywood's "serial kisser", Emraan Hashmi, assumes a new screen avatar in Tigers, a film by an Oscar-winning director. He sees in it an opportunity to reinvent himself as an actor
Saibal Chatterjee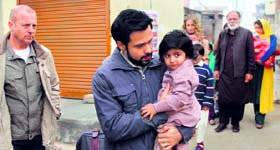 Emraan Hashmi plays a medical salesman in Tigers, a fictionalised cinematic account of the life of Pakistani whistleblower Syed Aamir Raza
In a decade-long career, Emraan Hashmi has never played a conventional Bollywood hero. As a lead actor in commercial Hindi cinema, he usually makes a fair fist of fleshing out characters grappling with moral and emotional issues.
Yet, for all his efforts, he has never been hailed as anything more than a single-note performer trapped in a limited bandwidth. The fact that he works predominantly within the Vishesh Films set-up run by his uncles Mahesh and Mukesh Bhatt is part of the reason why he remains largely underrated.
But all that could change for good if Emraan Hashmi were to build on the opportunities, global or otherwise, that Tigers, an international film in which the 35-year-old Mumbai actor impersonates a real-life hero, promises to throw open to him.
Directed by Oscar-winning Bosnian filmmaker Danis Tanovic (No Man's Land), Tigers is a fictionalised cinematic account of the life of Pakistani whistleblower Syed Aamir Raza and the fate that befell him when he took on the world's largest food company.
A young salesman from Sialkot, Raza was forced to flee in the 1990s after he took on Nestle for pushing a breast milk substitute in Pakistan despite being aware that the instant baby formula was killing infants in impoverished sections of the country.
In this realistic and restrained David-versus-Goliath tale, Hashmi plays medical salesman Ayan Rashid in an understated style that is completely at odds with his flashier Bollywood persona.
"I had to move up a few notches up to do justice to the role," he said on the sidelines of the 39th Toronto International Film Festival, where Tigers premiered recently.
"It was all very new to me," he added. "In mainstream Hindi films, acting is an episodic affair. You go to set and do your stuff off the cuff. In Tigers, I had to internalise the character completely before plunging into it."
The reinvention of "serial kisser" Hashmi began in Dibakar Banerjee's 2012 political thriller Shanghai. It was his edgy and effective performance in that film that helped him land Tigers.
"Anurag (Kashyap) loved my performance in Shanghai and recommended me to Danis when the two met at a film festival," Hashmi revealed.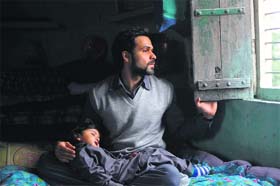 Emraan Hashmi in a still from Tigers
Indeed, the Toronto premiere of Tigers, sandwiched between the late August release of the crime caper film Raja Natwarlal and the upcoming Karan Johar production Ungli, brought Hashmi a new kind of critical attention and he lost no opportunity to bask in it.
"Tigers isn't just a film," he said. "It is meant to spark a conversation, trigger a debate on the breast milk versus packaged milk issue." Hashmi had to get into a different kind of rhythm altogether to get it right. "Tigers is an extremely well-researched film. I had to do a lot of reading before the shoot began because I could not afford to slip up," explained the actor, who now believes that a whole new world lies ahead.
The director had sent Hashmi a bunch of documents and case studies so that he could grasp the essential dimensions of the theme that the film was setting out to address.
"Tigers is a true-to-life biopic and my performance had to capture the character of an ordinary man, who displayed extraordinary courage in the face of a crisis of conscience," said Hashmi.
The actor, however, did not meet the real-life Aamir Raza (who now lives in Toronto with his wife and children) until the film had been wrapped up. "It was about the emotions, not about aping the man," said Hashmi.
The film primarily portrays a 1990s scenario. So everything — the lingo, the clothes, the body language — had to be spot-on. "It was a big challenge and the experience taught me a great deal," Hashmi said.
How was it working with Danis Tanovic? Hashmi's reply, "I thought he would be the kind who would control everything. But he did not — he gave me a lot of space to develop the character. He gave me the broad outline of the man and then let me explore."
So is Hashmi looking for more such work? "Yes I would be keen to take on projects that push the boundaries. In the near future, I see myself doing a juggling act between commercial Hindi cinema and more independent films," he said.