M A I N N E W S
Big wins for BJP in Haryana, Maharashtra


With 47 seats, party storms to power in Haryana for first time


Is big boss in Maharashtra with 122 seats, set to form govt with support
Naveen S Garewal, Shiv Kumar & Vibha Sharma
Tribune News Service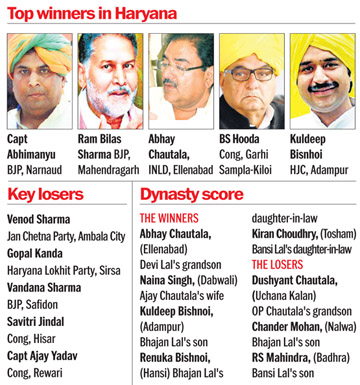 Chandigarh/Mumbai/New Delhi, October 19
In a fiercely fought Assembly elections that put Prime Minister Narendra Modi's popularity to test following BJP's unprecedented victory in the Lok Sabha polls five months back, Haryana on Sunday gave the party a clear majority — BJP's first-ever in the state — and Maharashtra saw it emerge as the largest party.
As the incumbent Congress and others fell by the way side since the declaration of October 15 Assembly poll results, the saffron juggernaut rolled on — from dust-swept rural Haryana to coastal Konkan, Marathwada, Vidarbha and finally Mumbai. At the end of the day, the BJP bagged 47 of total 90 seats in Haryana, and 122 in the 288-member Maharashtra Assembly.
The BJP's parliamentary board that met in the evening decided to send two observers each to Maharashtra and Haryana to decide its chief ministers.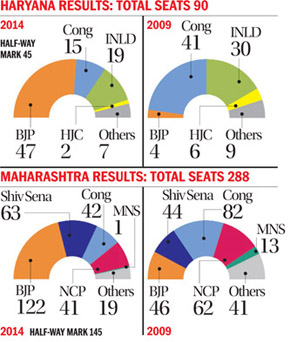 That the 'Modi wave' had not waned was evident from the fact that the BJP has increased its seats to 47 in Haryana from a mere 4 in the outgoing assembly. Chief Minister Bhupinder Singh Hooda today submitted his resignation to Governor Kaptan Singh Solanki.
Haryana, like Maharashtra, saw multi-cornered contests. Besides the BJP, Congress and INLD, fringe players such as HJC, HJCP, HLP, BSP and Samast Bhartiya Party were in the fray. Barring two seats to the HJC and one each to BSP and SAD, none other got anything.
The Congress was placed a poor third with 15 seats, behind OP Chautala-led INLD tally of 19. Ditto for the Congress in Maharashtra. The party's tally of 40 was behind Shiv Sena's 63.
The BJP in Maharashtra will have to ally with either the Shiv Sena or the Nationalist Congress Party. "We have never said the Shiv Sena is our enemy. We couldn't contest the elections as an alliance because of disagreements on seat-sharing," said a senior BJP leader.
The Shiv Sena sounded tough with spokesman Sanjay Raut telling reporters that party chief Uddhav Thackeray should be made Chief Minister if an alliance is struck with the BJP. But the Shiv Sena was soon on the defensive after NCP leader Praful Patel suggested that his party could extend outside support to the BJP in order to provide a "stable government" in Maharashtra.


Historic results! A matter of immense happiness & pride for BJP.... Thanks to the people of Haryana for giving us the opportunity to fulfil their dreams & to take Haryana's development journey to new heights. — Narendra Modi, PM


We are not under pressure as the NCP has offered support to the BJP. If it wants to tie up with the NCP it is free to do so. So far, no one has approached us. — Uddhav Thackeray, shiv sena chief

The BJP secured 33.2 per cent votes, while the INLD got 24.1 percent, Congress 20.6 per cent and Independents that managed to get 5 seats polled 10.6 per cent votes. Voters in Haryana have yet again shown that they cannot be taken for granted and they voted against several important leaders. Captain Ajay Yadav, chairman of the Congress Campaign Committee, was defeated from Rewari - the seat he had won seven times in a row. Similarly, INLD's state party chief Ashok Arora, a front-runner for the chief ministerial candidate, lost from Thanaser.
The top losers include Savitri Jindal (Congress), Venod Sharma (Haryana Jan Chetna Party), Gopal Kanda (Haryana Lokhit Party), Dushyant Chautala (INLD), Chander Mohan (HJC), Arvind Sharma (state BJP chief), Vandana Sharma (sister of Union Minister Sushma Sawraj).
While prominent among those who won included outgoing CM Bhupinder Singh Hooda, Ram Bilas Sharma (Haryana BJP chief), Capt Abhimanyu, Abhay Chautala, OP Dhankar, Kiran Chaudhry, Kuldeep Sharma, Manohar Lal Khattar, Kuldeep Bishnoi and Renuka Bishnoi.
The election results clearly show a strong "Modi wave." PM Modi addressed 11 election rallies in the state, while Amit Shah addressed 22.
The BJP has had three alliance break-ups in the past two years. Shah said in Delhi that the party will take its allies along, but not at the cost of its members.