M A I N N E W S
India concerned over snooping by China along Kinnaur border
Pratibha Chauhan
Tribune News Service
Shimla, October 20
The installation of surveillance equipment by China close to Shipkila along the India-China border in Kinnuar district has become a cause of major concern for the security and intelligence agencies. The issue is likely to be raised with China.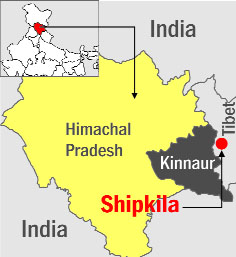 The matter was discussed at length at the meeting of all security and intelligence agencies held here today. Officials from the Police, Army, Research and Analysis Wing (RAW) and the Indo Tibetan Border Police (ITBP) attended the meeting which discussed issues concerning International Border, internal security, counterfeit
currency and narcotics and drug trafficking.
"The surveillance equipment has been installed by China inside Tibet at a distance of about 3 km from Shipkila in Lahaul Spiti at an elevated point," confirmed a senior official. "India will register its strong objection to the installation of this tracking device at the next flag meeting between security forces of the two countries," he said. The Indo-China trade is carried along the Shipkila Pass in Kinnaur district every year from May to November.
India shares a boundary of more than 200 km with China along Tibet in the tribal district of Kinnaur and Lahaul Spiti. "The installation of the surveillance equipment in this sector is a new development about which the Centre has been informed and this has been done by China probably to monitor the developments taking place along the Indian side," said an official.
China has strengthened its infrastructure along the border areas falling in Tibet along with building up its communication network like installing mobile towers.
Though the Indo-China border in Himachal is not as active as the North East sector but of late there have been instances where objections were raised by China over installation of electricity poles by India along the border near Namgya.
At the meeting it was decided that another police post at Khab would be created later.
To lodge protest
Surveillance equipment has been installed by China inside Tibet at a distance of about three km from Shipkila. India will register its strong objection to installing of this tracking device — Govt spokesman.