M A I N N E W S
Atta, dal for poor to cost more in Punjab
Ruchika M Khanna
Tribune News Service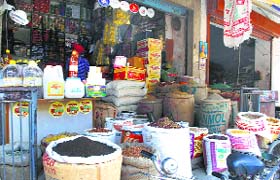 Chandigarh, October 22
The cash-strapped Punjab Government has decided to increase the prices of wheat and dal distributed to 31 lakh poor families under its flagship Atta-Dal Scheme. From December 1, the wheat will cost Rs 2 per kg instead of Rs 1 per kg, and dal Rs 30 per kg instead of Rs 20 per kg to the beneficiaries.
The state government has issued a notification in this regard after a decision to this effect was taken during a meeting chaired by deputy Chief Minister Sukhbir Singh Badal. A committee was formed under the Chief Secretary to finalise a price at which the wheat and dal should be distributed to familes identified under the National Food Security Act.
Official sources said the need for fiscal prudence forced the government to increase the prices of wheat and dal. The scheme was adding to the state government's huge subsidy bill of over Rs 6,000 crore. The revised prices will now help the state save Rs 172 crore — Rs 87 crore on wheat and Rs 85 crore on dal — on the subsidy bill. This year, Punjab had allocated Rs 400 crore as subsidy for the Atta-Dal Scheme. But considering its inability to clear dues of over Rs 1,700 crore of PUNSUP (the state agency that buys the supplies for distribution), the state government has been forced to redesign the scheme. On an average, the state distributes 8.70 lakh metric tonnes of wheat and 78,000 to 84,000 metric tonnes of dal in a year under the scheme.
The sources said as the wheat was distributed for six months at a time and the government had already distributed wheat for June-November, the new price of wheat would be implemented from December. Dal is distributed for three months and has been distributed for the period between June-August. The new price of Rs 30 per kg will be charged to beneficiaries for September-December now.
Price hike
Government revises price of wheat from Rs 1/kg to Rs 2/kg, and that of dal to Rs 30/kg from Rs 20/kg.