Vanity fare
Over the years, the vanity bag has become a wardrobe essential. It is a part of the trousseau and gives you company as you travel around the world
Nutan Sehgal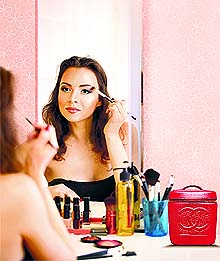 Label with a value
The Chanel Red Caviar leather vanity bag is a beautiful piece for ladies to carry their knick-knacks. Featuring the classic CC logo on the front, its interiors are lined in tan leather and it has a pocket for small accessories as well. You can fill it with your favourite make-up material and carry it anywhere.
Price: Rs 34,500
Recently when a leading airline of a Gulf country started offering hand-stitched and well-crafted vanity bags to its business class passengers, there was a sudden and unexpected spurt in business. The reason, however, was not difficult to find out. As the word got around that these complimentary vanity bags were designed by luxury brands such as Bulgari and Tumi and came with cosmetics from top-of-the-line brands like Dior, Clarins and Dermalogica, a large number of travelling women either upgraded their travel class or made this particular airline their first flying preference. That, in a way, sums up the popularity of a vanity bag.
Call it a cosmetic case, beauty purse, make-up pouch or a body-hygiene kit, the vanity bag has been used by ladies for centuries to carry their essential toiletries and cosmetics, neatly and stylishly. References can be found from even history when aristocratic women flaunted bespoke bags of leather, linen, silk or velvet, especially handmade for them.
Promise of luxury
The era of the bespoke vanity bags was once again brought back earlier this year when the Orient Express's Paris-Vienna leg was re-launched. In keeping with the spirit of luxury rail travel, the company commissioned French trunk-maker Moynat and Parisian perfume-house Guerlain to re-launch the opulent vanity bag that was so much a part of the travel kit of aristocratic women, who travelled in this uber-luxury train. The result was the Malle De Beauté or a beauty case in the signature Orient Express blue and gold colours. It had an attached eye-watering price tag, ranging between Rs 3 lakh and Rs 30 lakh, depending on the accessories selected by the client. This vanity bag, explained Moynat, is symbolic of an era when journey was as important as the destination.
Today all leading brands like Louis Vuitton, Gucci, Prada, Givenchy, Chanel, Chloe... launch a mind-boggling variety of cosmetic cases on a regular basis, which are an important part of their annual collections. Though the price of these designer bags at times are exorbitant, there is also a huge variety of reasonably priced ones that match up in design and quality with the brand leaders.
On the popularity charts
Bags by popular labels like Marc by Marc Jacobs, DKNY and Longchamp are priced in the range of Rs 6,000 and Rs 7,000. But if the purpose is only utility, then there are budget bags available in the market that cost as low as a few hundred bucks and are made of cheap material.
So, when did the vanity bag become a part of a woman's wardrobe? Though it is difficult to trace its history, fashion historians say that the vanity bag perhaps came into existence in the eleventh or twelfth century when clothes did not come with pockets. The bag thus came into being because people felt the need to carry their personal belongings and keep them handy at the same time. The first to arrive on the scene were the simple carry bags, which later gave way to more sophisticated and stylish ones, having separate compartments for carrying money and personal necessities.
It was, however, in the Victorian era in England that the vanity bag, as we know it today, came into existence. It was a travel company that introduced it to store cosmetics. As time passed, the beauty case started becoming more travel friendly. In the years that followed, creative designers stuck a mirror on the inside of the lid. More additions came as companies in the beauty business started making cosmetics for various purposes. To lure customers, they sometimes offered a complimentary cosmetic bag to women.
To enhance your beauty
In a bid to showcase how all products could be attractively fitted into the bag, the labels made compartments and inner pockets, which displayed bottles of perfumes, lipsticks, nail polishes and a host of other make-up products.
With multiple partitions, the vanity case — also referred to as the necessaire — not just met the travel demands but also added a touch of class and elegance to the lady who carried it. Cinema further added to the appeal of the bag as photographs of many top heroines were published in magazines showing them carrying a vanity bag whenever they went for shooting. This was of course before the era of vanity vans came into being. Over the years, the vanity bag has evolved into a personal style statement and there is a deluge of these bags in the market.
From the humble functional bags to those made of precious metals and studded with Swarovski and other semi-precious stones by fine jewellery makers to those engraved with the owner's initials, the vanity bag has become a wardrobe essential for a growing number of fashion-conscious women.
Get budget wise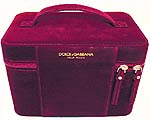 This surprisingly affordable Dolce & Gabbana's Pour Femme ladies burgundy velvet vanity case has the designer duo's name in gold lettering embossed on it. The zip-around bag measures nine inches in length and six inches in depth. Its main compartment has three small sections and one removable tray and mirror.

Price: Rs 2,300
A compact pick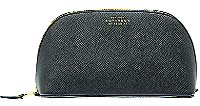 Simple yet elegant, the Italian-made Smythson charcoal-grained leather Panama cosmetic case has a gold-stamped logo at the top and has a cross-grain leather exterior and top-zip closure. It is the perfect addition to your bathroom or travel collection and has the ideal size for slipping into the hand luggage.
Price: Rs 14,500
Make a retro statement
There is always a need for some cosmetic essentials while travelling. Keep your make-up requirements in the Kate Spade Small Annabella vanity case. The polka-dotted bag made of patent leather has a zip-around closure, a back wall-slip pocket and a flat base to provide upright structure.

Price: Rs 8,500
Stunning in red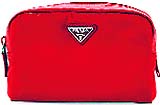 Italian luxury brand Prada's square cosmetic red bag is both trendy and functional. Made primarily of nylon, it has the company's triangular logo in silvertone hardware and leather in front of the bag. Measuring seven inches in width, it four inches in height and can be used as a clutch.
Price: Rs 15,000
Bagful of style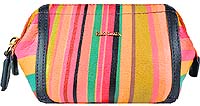 Leading British fashion designer Paul Smith's eponymous brand has launched a series of vanity and cosmetics bags in 2014. This leather make-up bag features his signature stripe pattern and gold-toned hardware. The handy bag is around six inches wide and four inches in depth and is ideal for short-distance travel.
Price: Rs 17,000
Floral inspiration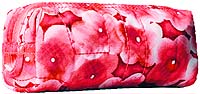 This pretty and petite nylon floral cosmetic pouch Marc By Marc Jacobs is crafted from travel-friendly lightweight nylon. The bright-coloured bag with flower patterns is cut in a top-zip design and finished with a signature lacquered logo plaque. The interiors are fully lined to carry your essentials securely.
Price: Rs 6,700
Stamp of signature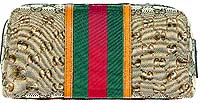 This small and elegant cosmetic case from Gucci is crafted from original GG fabric. It has a dark-brown leather trim and the web is in Gucci's signature colours of orange, green and red. It features ruthenium hardware (from the platinum family) and has a zipped top and inside pocket.
Price: Rs 14,000
Nature's basket
Spanish brand Ecoalf is known for constructing vanity cases by using eco-friendly recycled material. This vibrant print cosmetic pouch is one of these. Crafted entirely from discarded-plastic water bottles, it is an example of how trash can be turned into a quality cosmetic bag to store your treasures.
Price: Rs 5,900
For safety's sake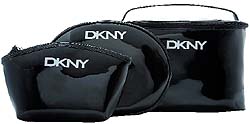 The elegant DKNY vanity cosmetic set comprises three zip-secured cases in ascending sizes. Inside the largest case, there is a fixed mirror and a zip-sealed compartment for keeping your valuables safe. The set has been crafted from fabric with sequin detailing and the DKNY logo print is repeated on all three cases.
Price: Rs 6,000
Bright and colourful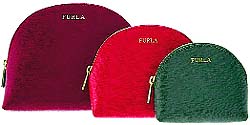 Carry your essentials in style with these three stylish multi-coloured cosmetic bags from Italian luxury house Furla Babylon. Featuring top zip closure, these three bags in different sizes will accommodate all your essential cosmetics and even take in some extra pieces for an emergency.
Price: Rs 9,500
Beautifully printed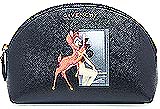 The textured and coated small fawn-printed cosmetic case from Italian luxury fashion-house Givenchy has a minimalist design. It is made of canvas, has pale golden hardware and a graphics printed at the front. The compact bag has a zip-around closure with nylon lining in the inside and is ideal for travelling.
Price: Rs 22,500
To suit your needs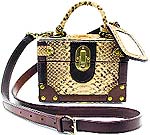 If you are very particular about matching the style of your vanity bag with what you wear, then take a look at the stunning Chloe Python vanity case. The Italian-made case takes care of all your beauty and travelling needs. It opens up inside to a mirror and has expandable side pocket detailing. It also includes a dust bag.
Price: Rs 60,000
Have money, will spend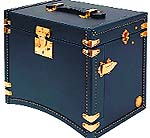 Counted among the most-expensive cosmetic cases in the world, the Moynat and Guerlain's exclusive Malle De Beauté or beauty case is in the Orient Express luxury train's signature blue and gold hardware. Earlier the exclusive case for aristocracy, it can now can be bought by anyone who has moolah to burn.

Price: Between Rs 3 lakh and Rs 30 lakh depending on customisation
Say it with flowers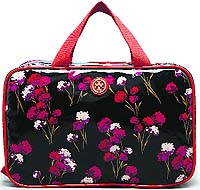 This Tory Burch hanging make-up case has a lovely floral pattern. The large slouch case with a logo plaque at the front is around 12 inches in width and 7.5 inches in height. Made of PVC, it has double handles and a zip closure. It has two interior zip compartments for valuables.


Price: Rs 11,050

Portable dressing tables
The train case: Back in the 18th and 19th centuries, when the train was the only mode of transportation for long distance travelling, women carried a special make-up bag called the train case that had all the cosmetic essentials including toiletries and personal hygiene products as the bag was meant to be a travelling companion. It had a mirror on the inside of the cover and was always carried by hand so that it could be used instantly to freshen up.
Wedding vanity bag: A bridal make-up bag is far more elaborate than a normal vanity bag. In fact, it is a portable dressing table. Besides the usual cosmetics it stores, it is also used to keep stuff of personal hygiene, including things like the nail cutter, filer, application brushes and sponges. And keeping the occasion in mind, cosmetics usually have the stamp of the world's top brands.
Cosmetic organisers: Unlike vanity bags, these are not portable but are make-up workstations at home. These are attractive make-up storage containers and can sometimes fit inside a deep drawer and have a variety of sections for both beauty tubes and substantial perfume bottles. Besides being stylish, these effectively hold everything from hairsprays to bottles of nail polish. These also have storage space for larger grooming products like lotions and shampoos.