M A I N N E W S
Five-phase polls in J-K, Jharkhand from Nov 25


Results on Dec 23


All factors, including floods, taken into account: EC
KV Prasad
Tribune News Service
New Delhi, October 25
The Jammu and Kashmir and Jharkhand Assemblies will go to the polls in five phases i.e. from November 25 to December 20. The Election Commission of India, while announcing the schedule today, said they had taken into account all factors, including devastation caused by the recent floods in Jammu and Kashmir, while deciding the schedule.
Polling for the 87-member J&K and 81-member Jharkhand Assemblies will be held on November 25, December 2, 9, 14 and 20, while counting of votes will take place on December 23. Bypolls for three Delhi Assembly seats will be held on November 25.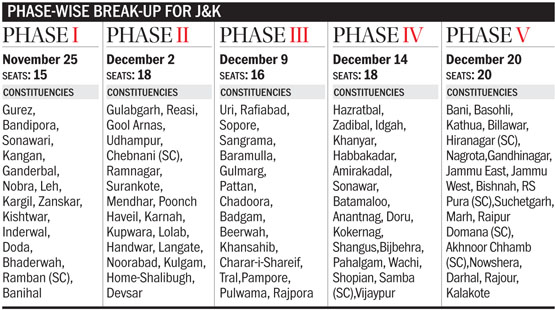 The last date for filing of nomination papers starting from phase-I will be November 5, 14, 21, 26 and December 3, respectively, while the last date for withdrawal would be November 10, 17, 24, 29 and December 6, respectively.
In J&K, 72.25 lakh voters are eligible to cast their ballot at 10,015 polling stations. Of the 87 seats in the Assembly, 15 will go to the polls in the first phase, 18 in the second, 16 in the third, 18 in the fourth and 20 in the final phase.
With the announcement of the schedule, the model code of conduct comes into force with immediate effect. Those whose names figure in the electoral rolls published on October 15 will be eligible to vote in the J&K elections.
Chief Election Commissioner VS Sampath, along with his colleagues HS Bramha and Syed Nasim Ahmed Zaidi said the commission was acting in consonance with the mandate to constitute the new Assemblies before the expiry of the present term — the Jharkhand Assembly is scheduled to expire on January 3 next year and J&K on January 19.
The election commission, he said, held discussions with stakeholders in J&K, which was hit by floods, and a two-tier consultation process, involving officials and recognised political parties, was conducted. Discussions were also held with officials in the revenue and relief and power departments.
"Barring one, most political parties are in favour of holding elections. There is no justification for delaying the polls. Most stakeholders, Divisional Commissioners, Inspectors General of Police and the Chief Secretary said there was nothing to prevent holding of the elections," the CEC said responding to questions on the announcement of elections when parts of the state were recovering from the devastating floods.
He said alternative arrangements for setting up polling stations would be made in cases where school buildings had suffered damage during floods. On if the recent floods would cast a shadow on poll percentage, the CEC said it was difficult to guess polling percentage in states like J&K. "We (ECI) were told this would not have any specific impact," the CEC said.
While the CEC refused to elaborate on which political party had raised its objection, sources in the commission said the ruling National Conference favoured delay in the conduct of elections.
Bypolls to 3 Delhi seats
The bypolls to three Delhi Assembly seats — Krishna Nagar, Mehrauli and Tughlaqabad — will be held in the first phase i.e. on November 25. The seats fell vacant after BJP MLAs Harsh Vardhan, Pravesh Verma and Ramesh Bidhuri were elected to the Lok Sabha. — PTI