Making our heritage inclusive
The future for our legacy can be ensured if old buildings are perceived as part of life and just not the landscape
Gurmeet Rai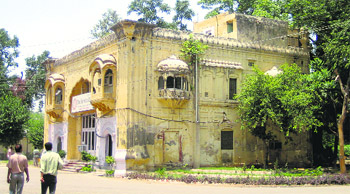 Buildings of historic significance protected during the British period were primarily sites from the ancient period — from the Indus valley civilisation and those associated with Buddhism, Mauryan, Kushan period. Later a shift to monuments of medieval period came in the early decades of the 20th century.

Though protected by the ASI, the north gate of the Rambagh palace currently houses the Service Club. Photo by the writer

---
music zone
The ultimate showdown of musical favorites
Legendary Plant's uniqueness is apparent
Robert Plant — Lullaby and the Ceaseless Roar (Nonesuch)
Lullaby and the Ceaseless Roar is Plant's first record since 2010's Band of Joy, which followed 2007's six-time Grammy Award winning collaboration with Alison Krauss, Raising Sand. Plant's voice, which once boasted a remarkably high range, has now settled into a comfortable place. There's a return to his Black Country roots on opener Little Maggie, a traditional song featuring bluegrass style mandolin and guitar.

Tune in
---
good health
Understanding breast cancer
Most breast cancers can be detected by self-examination and save many lives
Dr Pawan Gupta
Breast cancer is the most common cancer in women in India and accounts for 25 per cent to 31 per cent of all cancers in women in Indian cities. (Source: PBCR 2009 2011). According to Indian figures for 2012, around 144,937 women were newly detected with breast cancer and 70,218 women died of breast cancer. For every 2 women newly diagnosed with breast cancer, one woman is dying of it.
---
SOCIETY
The quirky narrator
Masaba Gupta, creative director of Satya Paul, pledges to create fashion that diets on bling and feeds on prints
Ashima S Batish
Unassuming, unpretentious and unfussy, adjectives that you really don't associate with celebrities, define Masaba Gupta. She is a heady mix of youth and success. Equally candid, she neither calls a question pass, nor reverts with a politically correct answer. And all this doesn't require a conscious effort. That's how she has been, always upfront, a personality trait that she says is genetically acquired from her mother Neena Gupta. The same honesty seeps in whatever she makes at House of Masaba and Satya Paul.
---
ADVENTURE
The off-road challenge
This year's Rainforest Challenge saw many seasoned as well as amateur off-roaders taking part in the dangerous event
H. Kishie Singh
The Rainforest Challenge, RFC, one of the most demanding and dangerous off-roading events in the world, was held in Goa recently. In 2013, it was included in the World's Top Ten Toughest Motor Races. Off-roader aficionados in India got a chance to participate in this awesome event.
Driving spirit
The annual Crème 21 Youngtimer Classic Car Rallye, which attracts many classic car collectors, is the best way to see the German countryside
Bob Rupani
The Cr`E8me 21 Youngtimer Classic Car Rallye was held in Germany recently. The entry rules were simple, road worthy vehicles manufactured between 1970 and 1990 could participate in this rallye and the idea was to have fun with these 'Youngtimer' classic cars.
---
ENTERTAINMENT
Stars twinkle on small screen
Being adored, celebrated and followed by millions of fans is a temptation few can resist. This is why most big stars can be seen on television after their starpower starts receding
Shoma A. Chatterji
Film industry is a dicey world. It raises an actor to the skies when he/she is at the top but does not bat an eyelid before dropping the star like a hot potato when the starry halo around the head fades. It is disappointing for once-a-superstar like Madhuri Dixit to discover that she is not anymore the hot shakes she was. Moneywise, she does not need to worry. Appearances on reality shows as 'special guest', jurying a dance reality show, or endorsing new products that demand her charismatic smile are enough to bring in the booty where it should be — home.
'It is tough to feel the pulse of the audience'
The assembly-line serials of Ekta Kapoor have influenced small-town middle-class families for more than two decades. But the queen of soaps says she is still not sure which of her serials will work
Surekha Kadapa-Bose
She forayed into the nascent TV industry way back in 1995 with her first serial Hum Paanch in Hindi and within two decades became the undisputed queen of the Indian television. Successfully experimenting and taking bold and ruthless decisions, Ekta Kapoor started a new era in television. Today, most channels in several languages have serials from her home production — Balaji Telefilms. Sought after by every TV channel, Ekta Kapoor recently launched two more Hindi serials.