M A I N N E W S
White House computer network breached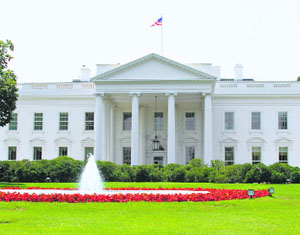 Russian hand suspected


Suspicious activity was noticed on an unclassified computer network used by employees of the Executive Office of the President a few weeks ago


While the authorities took measures to evaluate and mitigate the activity, it resulted in disruption of regular services to users


Hackers, believed to be working for the Russian Government, are suspected to be behind the breach, a report says
Washington, October 29
Unclassified White House computer networks were breached by hackers recently resulting in temporary disruptions to some services, said a media report. The Russian government is thought to be behind the intrusion.
"In the course of assessing recent threats, we identified activity of concern on the unclassified Executive Office of the President network," a White House official was quoted as saying by the Washington Post.
"We took immediate measures to evaluate and mitigate the activity... Unfortunately, some of that resulted in the disruption of regular services to users. But people were on it and are dealing with it," the official said.
White House officials said the intruders did not damage any of the systems and that there was no evidence to suggest the classified network was hacked. The FBI, Secret Service and National Security Agency are involved in the investigation, the report said.
"Hackers thought to be working for the Russian government breached the unclassified White House computer networks in recent weeks... resulting in temporary disruptions to some services while cyber security teams worked to contain the intrusion," the paper said.
But White House officials are not commenting on who was behind the intrusion or how much data, if any, was taken. "Certainly a variety of actors find our networks to be attractive targets and seek access to sensitive information. We are still assessing the activity of concern," the official said. US officials were alerted to the breach by an ally, the paper quoted sources as saying. — PTI