M A I N N E W S
Kanwar Pal Gurjar is Haryana Speaker
Geetanjali Gayatri
Tribune News Service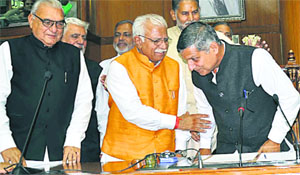 Haryana Assembly Speaker Kanwar Pal Gurjar (R) with CM Manohar Lal Khattar and former CM BS Hooda in Chandigarh. Manoj Mahajan

Hails from Y'nagar farming family


Kanwar Pal Gurjar, 54, was born in a farmer family in Bahadurpur village under Chhachhruali tehsil of Yamunanagar district on May 7, 1960


Gurjar, an under-graduate, passed the matric examination from a school of Kurukshetra's Shahbad in academic session 1976-1977


He was elected president of student union of Maharaja Agrasain College, Jagadhri, in 1979
Chandigarh, November 3
The 13th Haryana Assembly today "unanimously" chose Jagadhari MLA Kanwar Pal Gurjar as its Speaker on the first day of the maiden session of the Haryana Vidhan Sabha which began amidst camaraderie, handshakes, bear hugs, lofty talks of "idealism" and a commitment to adopt healthy parliamentary practice even as the House expressed unanimity over the need for longer House sittings.
In proceedings which opened with protem Speaker Raghubir Singh Kadian administering oath to the newly elected members, Gurjar's name was proposed by Education Minister Ram Bilas Sharma and seconded by Finance Minister Capt Abhimanyu. In the absence of any other name, Gurjar, a second-time MLA, was declared Speaker.
He was escorted to his chair by all the members, including Haryana Chief Minister Manohar Lal Khattar, Leader of the Opposition Abhay Chautala and former Chief Minister Bhupinder Singh Hooda. He will be the 20th Speaker of the Haryana Assembly.
Before assuming the chair, he touched the feet of the CM as also those of Hooda and was hugged by Kadian as the ministers stood by his side. Gurjar pledged that he would uphold the traditions of the House and take everybody along in the smooth conduct of the House. Later, all the members queued up to shake hands with him.
Among the members, Khattar was the first to take oath followed by ministers, women MLAs and the rest.
In a House which probably has the maximum number of first-timers, nearly two-thirds in all, the proceedings opened with Kadian administering oath to the Chief Minister, who wore a bright orange jacket that made him stand out in the crowd.
While most of the members preferred to take their oath in Hindi, five members, including Haryana Janhit Congress chief Kuldeep Bishnoi and senior leader Birender Singh's wife Prem Lata, took the oath in English, three members opted for Punjabi and Capt Abhimanyu and five others opted for Sanskrit to take the vow. Naseem Ahmed was the only MLA who took oath in Urdu.
While the Indian National Lok Dal (INLD) members came wearing green turbans to the House, their lone woman MLA, Naina Chautala, wore a green suit. The only couple to be elected to the House, Haryana
Janhit chief Kuldeep Bishnoi and his wife Renuka, were attired in yellow. They sat side by side and congratulated each other after their respective oaths.
The Congress, reduced to the third position in the House, saw its size shrink considerably over last time though Hooda played an active role in keeping the party's identity alive, cracking jokes and narrating anecdotes.
To Hisar MLA Kamal Gupta's claim that the Speaker would find support from the first-timers, Hooda responded by quoting an incident from Jagjivan Ram's life, stating that the first-timers must always remember that the "seniors" have also gone through that particular phase.