M A I N N E W S
Modi set to expand Council of Ministers on Sunday


Parrikar tipped to get Defence

Berths likely for Anurag, Nadda, Naqvi
Vibha Sharma
Tribune News Service
New Delhi, November 6
Prime Minister Narendra Modi is expected to expand his Council of Ministers on Sunday. The BJP has told its allies to nominate their representatives by tomorrow.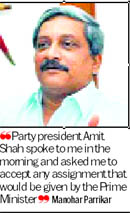 Goa Chief Minister Manohar Parrikar, whose meeting with the PM and party chief Amit Shah on Wednesday triggered speculation of him being shifted to the Centre, today said he would accept any assignment given to him by the Prime Minister. "Party president Amit Shah spoke to me in the morning and asked me to accept any assignment that would be given by the Prime Minister," said Parrikar.
When asked about his possible shift to the Centre, Parrikar told a TV channel: "To leave Goa is painful."
He, however, did not disclose whether the Prime Minister had offered him the Defence portfolio. "I want to give proper information as far as joining the Cabinet is concerned. It is the prerogative of the Prime Minister. However, I would like to inform that the party has indicated to me that if such assignment comes, you should accept it," he said.
Goa BJP MLAs are meeting on Friday to elect their new leader and the next CM. Sources said names of two leaders with RSS background, Health Minister Lakshmikant Parsekar and Speaker Rajendra Arlekar, are doing the rounds for the top post.
The PM, sources said, called up Telugu Desam Party chief and Andhra Pradesh CM Chandrababu Naidu, sounding him on the development. A similar call was also made to Maharashtra ally Shiv Sena that has been asked to nominate its representatives by tomorrow.
Naidu, who is currently in Delhi in connection with a function, was quoted as saying that the details (of expansion) would be known "in a couple of days". Most likely, the extra representation to the Sena is a part of the BJP-Sena power-sharing negotiations in Maharashtra.
Currently, NDA allies Shiv Sena, TDP, Lok Janshakti Party and Akali Dal are respectively represented by one Cabinet minister each in Modi's Council of Ministers. Apart from giving more representation to some allies, sources say Modi could also include new ministers and promote some Ministers of State.
Apart from Parrikar, other ministerial probables are Jayant Sinha, son of former Finance Minister Yashwant Sinha, who is tipped to be the new Minister of State in the Finance Ministry, former Power Minister Suresh Prabhu, BJP vice-president Mukhtar Abbas Naqvi, senior leader JP Nadda, Himachal leader and youth wing president Anurag Thakur, Bihar leaders Ashwini Chaubey and Giriraj Singh, Haryana leader Birender Singh and Maharashtra MP Hansraj Gangaram Ahir.
Sources say based on their performance a couple of minister may also lose their job while some Ministers of State with Independent charge such as Prakash Javadekar, Nirmala Sitharaman and Rao Inderjeet Singh may get a Cabinet rank.
Sources said Smriti Irani is being considered for the I&B portfolio. She currently heads the HRD Ministry.
Currently, several Cabinet ministers and ministers with independent charge are handling more than one portfolio. While Arun Jaitley is managing Defence and Finance portfolios, Nitin Gadkari, Ravi Shankar Prasad, Piyush Goyal and Prakash Javadekar are also holding charge of more than one important ministry.
It will be the first Cabinet expansion of the Modi government. Modi's Council of Ministers includes 22 Cabinet ministers and 22 Ministers of State, including 10 with Independent charge.
More share for Sena, TDP?

Jayant Sinha, Hazaribagh MP and son of former Union minister Yashwant Sinha, could be made MoS finance.

Sources said Modi has called up allies TDP and Shiv Sena that are likely to get more representation in the Council of Ministers

Currently, several Cabinet ministers and ministers with independent charge are handling more than one portfolio