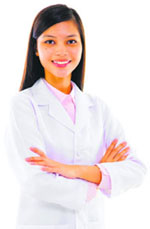 Occupational Therapy


Healers of mind and body
This field offers a lucrative option to those with an aptitude for a health-related career
When Rajeev suffered a bad car accident and injured his legs, he thought he would never be able to walk again. After six months of medical treatment and physiotherapy, he even lost the will to try. But it was the subsequent treatment with an occupational therapist that restored not only some movement in his legs, but also the hope of leading a normal life again.

Career Hotline
Home-based business options
Q. Can you please suggest some lucrative home-based business options that can help my wife supplement our family income? — M.H Baxi
A. Working from home gives one a flexibility in working hours, empowerment, a sense of responsibility and accountability and most importantly, a work-life balance.

mba mentor
Pay cheque mystery
Q. I know that salaries are directly proportional to the institute from which one gets MBA degree. But exactly what kind of salaries can one expect after getting an MBA degree from a foreign university? — Prabal Chauhan

Stable recommendations
Q. I am applying for an MBA this year. I want to know who should be my recommenders for the application? Should I ask my recent boss or can I take it from my professors as well? — Chaitali Basu

newsboard
International workshop on inclusive finance
Xavier School of Management (XLRI), Jamshedpur, recently hosted the three-day '3rd International Workshop on Inclusive Finance'. The theme of the workshop was 'Making Finance and Insurance Markets Work for the Poor'. 'XLRI-NABARD 'Innovations4Impact Award' presentation was also organised at the workshop.

scholarship roundup
Deepak and Sunita Gupta scholarship
INSEAD Business School is inviting applications for Deepak and Sunita Gupta endowed scholarship. Scholarship is awarded for MBA programme at INSEAD Business School. Outstanding candidates with limited financial means will be granted scholarships and the fund will enable INSEAD to continue to attract diverse candidates onto the MBA Programme. Scholarship is available for applicants from emerging/developing countries who can demonstrate proven financial need.

field in focus: sky computing
Soaring on a cloud
Sky computing or cloud computing is a long-running trend with a far-out horizon. If you are ready for an IT marathon, then this is the best option for you
If you are in any way related to Information Technology and have been riding its dynamic waves, then you surely would have experienced the crest called Cloud Computing. It is the new mantra whereby computing is delivered as a service over the Internet rather than as a product installed inside a company's premises.

campus notes
Maharshi Dayanand University (MDU), Rohtak
Food, culture and lifestyle of Punjab was brought to life during a programme titled "Rangla Punjab" organised at the Institute of Hotel and Tourism Management (IHTM) on the campus of Maharshi Dayanand University (MDU) recently. The IHTM Director, Prof Ashish Dahiya, said it was an activity-based learning programme for the students of the institute.

CareerCature
SANDEEP JOSHI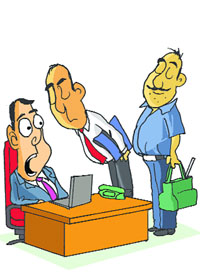 I just asked to find someone to fix loose connections; I didn't ask for an electrician.
course cruising
Nutrition course
Packaging and processing solutions company Tetra Pak has launched an online course on food safety, nutrition and packaging. Nutrition Quotient, is a first-of-its kind online certification course on food safety, nutrition and packaging.
smart strategy: meeting your deadlines
Keep pace efficiently
Missing deadlines is a common fear of most employees and a much more common complaint of the managers against their subordinates. Deadlines can be unforgiving and no matter how good and efficent a worker you are, if you are not able to meet the deadlines then all your hardwork goes down the drain.
Challenge your limits
We are limited by the beliefs we set in our mind, history shows that successful people are able to break off from these shackles and unleash their potential to live their life to the fullest. The difference is the "T" between can do and can't do. The "T" is your Thought. Steve Jobs was one of the best examples of breaking free of the boundaries set by the human mind; he questioned the status quo and unlocked his potential to create history. Like Steve Jobs you can make your greatest failure into your greatest success.
2nd india skills report 2015
72 pc employers prefer candidates below 30
With the PM Modi's vision on Youth and focus on Skill Development, second India Skills Report 2015 echoes the same sentiment where about 72 per cent employers preferring to hire candidates in the age 30 years and below. This preference for the young workforce is good news wherein 60 pewr cent of population is going to belong to the working age by 2020.
Career sweetener
the art of delegating
Diligent distribution
The biggest limiting factor that hinders growth of successful young managers to middle management is their inability to delegate effectively. There are only so many working hours in a day and you can do only so much all alone. It's time that you used the power of cloud computing by leveraging the resources available in your network. Understanding how to delegate effectively is certainly one of the most important skills a manager needs to master as he/ she moves up in an organisation.
Selfie obsession may cost you your job
People who post selfies on social networking sites may unveil their unflattering personality traits that could cost them a job, experts warn. "In a career sense, it can really impact your brand," career coach Hallie Crawford noted.