The next-gen gadgets
Technology is being redefined with gadgets that can be worn on the body. These not only help you access social media when on the go, but also keep a tab on your health and monitor where your baby goes
Prachi Mudgil
So many times, we have seen reel wearable computers lending our actors the superhero feel. We have also seen them use devices that can be worn around the neck like a tie, strapped around the waist like a belt, slung from the shoulders or even tied on arms and legs...the stuff of sci-fi world.
Now in the real world too, we have ample of these as companies like Apple, Google, LG and a host of others have come up with devices that surprise no end. Engineers, designers and scientists are creating what they envision as the future of personal computers: Wearable terminals.
These body-clinging digital gadgets are predicted to become indispensable life tools as well as fashion accessories. Devices like glasses and watches are redefining the idea of computers. You can sync these with smartphones or use these independently as mobile computers worn on the body.
The bright picture
The Google Glass, for example, is an Android-powered computer mounted on a pair of glasses, which displays text and information right in front of your eyes. It promises to change the way we work with computers. The glasses give information about an object simply by looking at it. For example, when you look at the sky, weather readings will flash in front of you. Or, when you arrive at a railway station or airport, the timing of trains or flights will start streaming in front of your eyes.
Google is not alone in this endeavour. Canadian firm, Recon Instruments has launched Recon Jet, which is a pair of sporty sunglasses with an integrated, Android-powered display that could make activities like running and cycling far more exciting, or at least far more information-packed.
It gives the wearer access to critical information, including heart rate, speed, distance, elevation, connectivity to the smartphone and an HD camera. Its comprehensive set up of on-board sensors delivers performance stats and data. Though most suited for professional athletes, the Jet is surprisingly finding widespread acceptance among amateur sportspeople and gym enthusiasts, who like to maintain a diary of their workout numbers.
Right on your wrist
According to researchers, the age of wearable technology has arrived. Besides glasses, companies are also creating prototypes of a number of lightweight computers, which can be worn like clothes. These will make work easier and a user won't need to carry heavy laptops, notebooks and tablets. Memos could then be dictated while travelling, or simply utilising the time while having a cup of coffee or travelling from home to office. Computations could be done while relaxing in the evening or even at the golf course.
These gadgets promise a serious use of such personal wearable computers. These would greatly enhance the quality of medical services with the doctor always being just a click away. All a doctor has to do is get the data of a patient and then communicate back the remedy.
To watch your weight
The flip side


Though still in the conceptual stage, many wearable technologies are likely to become so powerful that they would pose a danger to privacy. Experts say that devices like smart glasses would come loaded with so many features in the future that they could become a privacy threat. All that the wearer has to do is to look at a stranger and the glasses would instantly access his or her name, occupation and even the Facebook, Instagram or Twitter profile in real-time.

The time is coming when many wearable medical devices such as insulin pumps, glucose monitors and pacemakers would be remote controlled by doctors via the Internet. This would expose them to hackers who could take control of these devices and administer lethal doses to people.

Wearable fitness bands that track the activity levels of people and their lifestyle could end up being counter-productive to the users. Insurance companies could use this data to find out about the wellbeing of people and their potential health threat, which in turn could impact medical premiums and also the settlement of medical bills.

Finally, some experts have been voicing concern about the danger posed by the electromagnetic waves that are emitted from digital devices. Though there is no conclusive evidence to suggest that the body can be harmed by these waves, the medical fraternity is concerned about having too many wearable devices on the body. Some doctors say that too many devices could pose a health threat.
Apple has recently developed a smartwatch which is more of a wearable computer than a device to tell the time. It is designed to work with iPhone and is a comprehensive health and fitness device. It allows you to connect and communicate directly from your wrist.
Many feel this watch is the ultimate hands-free device. Apart from telling the time, it does facetime, sends messages, plays music, takes pictures, has a GPS navigator and does limited web browsing. The wearer is also able to watch videos and movies on it. And all that is done without a keypad! But Apple is not the only player in this field. A slew of other companies are already in the market with similar models. Samsung Galaxy Gear smartwatch instantly captured the imagination of the tech-savvy people and the company claims to have sold a mind-boggling 8,00,000 pieces around the world in just the first two months of its release.
Other companies that have launched a smartwatch are Sony, Qualcomm Pebble, Motorola, LG, Hyundai and more. Most of these watches have a coloured touchscreen that gives you the option of taking your calls, view text messages, set reminders for meetings and also lets you enjoy high-quality stereo and audio from your mobile.
Many wearable computers are fitness devices that help you lose or gain weight and keep fit. These are activity trackers and keep count of the steps you walk everyday and motivate you to achieve your goal if you are falling short of the optimum 10,000 steps a day. These monitor your pulse rate, add up calories consumed and burnt, record pulse rate and keep tab on vital signs like temperature, blood oxygenation and heart activity.
Wonder devices
The market is inundated with wearable devices like Nike Fuel, Jawbone UP, Garmin Forerunner, Fitbit Aria, Griffin Adidas Armband, Basis Healthtracker, Striv Pedometer and many more. These are wonderful jogging companions that track distance, duration, pace, speed, elevation and calories burnt.
There are devices that fit into a pair of compatible running shoes, which record up to eight hours of data, relating to running speed, acceleration, distance travelled, pace and the pulse rate. Most of these contraptions can be hooked to wrists, legs, belts, ties. These new-age devices weigh no more than a few 100 grams and are made of very soft yet durable plastic and can be strapped around the body. These come in various shapes and colours.
Indeed, these personal wearable computers have the potential of revolutionising the world around us. Even if a person is travelling or vacationing or just dining out, he or she doesn't need to lug a laptop along. What is required is just a contraption, which can be worn like an ornament with a small display screen.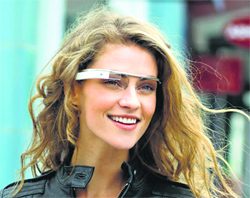 Guiding light
Google Glass is an Android-powered computer mounted on a pair of spectacles, which displays text and information right in front of your eyes. It syncs with email, text messages, Facebook and Twitter. It takes photos, records movies, provides location information, directions and much more.
Price: Around Rs 1.30 lakh
Celebrating technology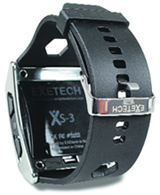 While most smartwatches are wearable-info attachments of your mobile, Italy's Exetech XS-3 seeks to pack everything into one watch-like device. Thanks to an included touchscreen, GPS, and Wi-Fi, you can enjoy a 007-worthy moment, and read messages or make and take calls directly from this watch.
Price: Rs 29,100
Easy to use
The MC10 Biostamp is a collection of sensors that can be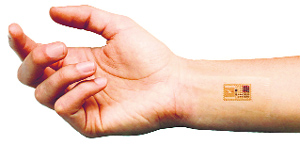 applied to the skin like a removable tattoo. It can be used to verify a person's identity on a computer or mobile device. It can also be used to collect medical data such as body temperature, heart rate, brain activity and exposure to ultraviolet rays.
Price: Yet to be announced
Sprint in style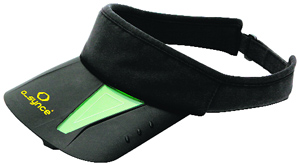 The German-made Screeneye X Sports Visor is an extremely useful device for a sports person as it can be set to display a runner's speed, heart rate, lap time, distance travelled and even calories burnt. Besides keeping a tab on your sports' activities, it provides information like current time, ambient temperature and performance analysis.
Price: Rs 15,000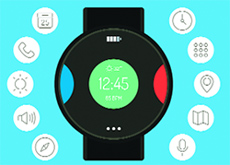 News at a clock
This smartwatch by Motorola gives you timely notifications on a host of things like weather, flight alerts, traffic and a lot more. Through voice control you can send text messages, set a reminder and even ask for directions. It keeps a tab on your health through an app that tracks your fitness on a daily basis.
Price: Rs 18,000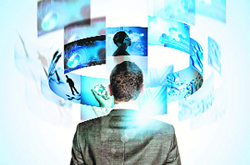 Mirror image
Virtual retinal display is a system where images are projected directly onto the retina. These can include movies and photographs seen through a headset called the Glyph that is mounted in front of the eyes. The technology also holds out the promise of extreme privacy when viewing top-secret documents.
Price: Around Rs 30,000 (still being developed)
Your health monitor
The Lumoback is a device that is especially made for people who are hunched over their office desk for hours. It wraps around the waist and vibrates when it senses that you are slouching and reminds you to correct your posture. It also counts the steps you walk in a day and keeps a close watch on your fitness levels.
Price: Rs 6,000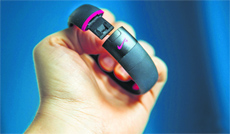 Point to be noted
The Fuel Band is an innovative wristband from Nike that helps you lose weight and keeps you fit by monitoring your everyday activities. You earn Nike Fuel points when you work out in a gym or a park. Running, walking, playing games or climbing stairs makes you earn points as you work on your fitness.
Price: Rs 14,500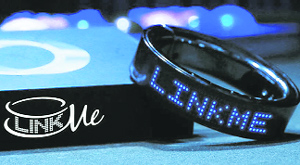 Pick and choose
This is an LED smart bracelet that connects with your smartphone via bluetooth and displays SMS and social media updates in the form of a text that scrolls across your wrist. Though all messages can be displayed, the Linkme bracelet also offers you the option of selecting what you want and what you don't want to receive.
Price: Rs 6,000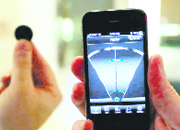 As you deem fit
The Embrace+ is a wristband that alerts you about notifications on your smart phone. You can set colours to match specific alerts, such as red for Facebook, blue for text messages and green for phone calls. The application that links this to your mobile is free and allows you to customise it to suit your requirements.
Price: Rs 3,000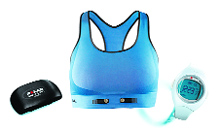 Close to your heart
The NuMetrex heart rate monitoring racer-tank top combines style and performance in a form-fitting garment. It features a top with sensor fibres, which are knit directly into the fabric to keep a tab on the heart rate. A small transmitter is placed in the pocket to send data to a smartwatch or smartphone.
Price: Rs 3,000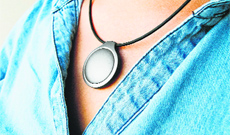 A lot in a sticker
A bluetooth-enabled circular sticker about the width of a coin, Stick N find sticker can be tied around the neck of a child or a pet. In case ababy or a dog wanders off, the sticker will send an alert on your smartphone. It can also be stuck on a keychain, mobile, tablet, wallet, passport, laptop or travel bags.
Price: Rs 1,800 for two stickers