M A I N N E W S
as G20 summit kicks off, focus on revamping global economy, conflict zones

Bringing back black money a priority: Modi
Says reform process bound to face resistance, must be insulated from political pressures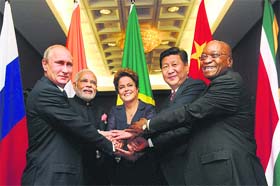 BRICS bigwigs at G20:

(L-R) Russian President Vladimir Putin, PM Narendra Modi, Brazilian President Dilma Rousseff, Chinese President Xi Jinping and South African President Jacob Zuma during G20 Summit in Brisbane on Saturday. PTI
Brisbane, November 15
Prime Minister Narendra Modi today pitched for global cooperation on repatriation of black money stashed abroad as the summit of G20 countries opened here amid intense pressure from within on tackling the menace.
Meeting G20 leaders for the first time in a summit, he said repatriation of unaccounted Indian black money abroad was his government's priority and also sent a message that economic reforms should be insulated from politics.
"Repatriation of black money kept abroad is a key priority for us," Modi told BRICS leaders — Brazilian President Dilma Rousseff, Russian President Vladimir Putin, Chinese President Xi Jinping and South African President Jacob Zuma.
The two-day summit is being held at a time when tax avoidance by multi-national companies were reportedly organising tax-lowering deals with Luxembourg and pressure from anti-corruption advocates, urging the major economies to stem the flow of illicit money across borders.
Opening the summit, host Prime Minister Tony Abbott vowed that the summit will deliver on an initiative to add $2 trillion to the global GDP, add more than 2 per cent to the global economic growth and millions of jobs.
Later, addressing fellow G20 leaders at a retreat, Modi said the reform process was bound to face resistance and wanted it to be insulated from political pressures.
Making a strong pitch for economic reforms, Modi said reforms should lead to simplification of processes and that methods of governance must be reformed. — PTI
Germans warm up to 'Make in India' mission
Germans warmed up to PM Narendra Modi's "Make in India" mission at a seminar organised by the Indian consulate in Frankfurt in association with the Federation of Indian Chambers of Commerce and Industry
At the seminar "Doing business with India: a CEO Perspective", Indian Consul General Raveesh Kumar talked about the investment opportunities available in India post the initiatives taken by the Modi government
snapshots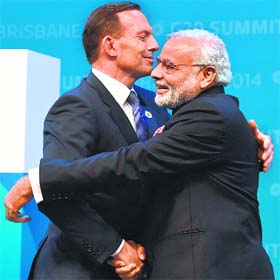 Modi much sought after
PM Narendra Modi was much sought after at the G20 with world leaders, including Barack Obama, spending time chatting and laughing with him. Modi was flocked by Obama, Vladimir Putin and Tony Abbott. IANS
Australian PM Tony Abbott welcomes PM Narendra Modi in Brisbane on Saturday. AFP

Delegates queue up for pubs
Hoteliers in Brisbane said G20 delegates were making the most of the city's bars and strip clubs and fitting in well with the Australian drinking culture. The German Chancellor was seen at Caxton Street drinks on Friday. ANI
Obama prefers Bondi beach
President Barack Obama has admitted that he would rather relax on Bondi beach in Sydney than sit in G20 conference rooms. The XXXX beer lover President said this at the University of Queensland. ANI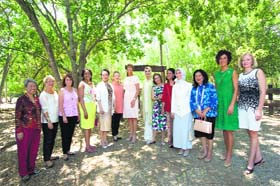 Women enjoy koala cuddling
Australian PM's wife Margie made sure that wives of G20 leaders had true Australian experience by taking them through a wildlife sanctuary for koala cuddling. The first ladies held koalas and hand-fed some kangaroos while touring Lone Pine Koala Sanctuary on Saturday. ANI
Spouses of the G20 leaders at a koala sanctuary in Brisbane. AFP

Too hot to handle
Leaders at the G20 summit in Brisbane would see the mercury climb to 40 degrees on Sunday according to forecast as a heatwave makes its way to eastern Australia. ANI