Seeking perfect answers
Reviewed by Aditi Garg
Throwing Sparks
by Abdo Khal. Bloomsbury Qatar Foundation.
Pages 349. Rs 499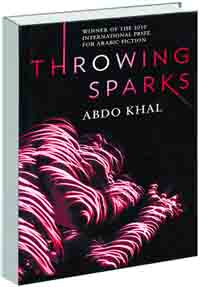 Abdo Khal surprises with his nimble narrative in his first novel to be published in English. Having started out as a preacher, he became a primary school teacher. Throwing Sparks won the International Award for Arabic Fiction. His contempt for the corruption that plagues the wealthy in the Arab world shines through in his writing.
The protagonist, Tariq, moves on from being a petty thief to be in a financially better position at a local palace, albeit it leaves him on an even lower moral ground. For him, life at the palace becomes like that of a caged bird that cannot break free. His master takes great pleasure in monitoring his every move. He summons him at any time that he deems fit to sodomise 'culprits'. Despite his aversion, he is not in a position to say no because he knows well that the master is cruel and the same treatment will be meted out to him.
In a fix and striving to get out of the rut, he contemplates everything, from running away to murdering his master. And just when he is at his lowest and trying to put up with his abusive aunt, love visits him. He holds on to his ladylove Maram and then nothing else matters.
The book visits and revisits previous narrations, each time adding a new facet or a different dimension to it. A striking journey into the heart of a man caught in the downward spiral of slavery, it will move you and set you thinking. A must read book that flows effortlessly and keeps you glued to the end.
Quiz-a-thon
by Tapas Gupta. Caperton.
Pages 172. Rs 95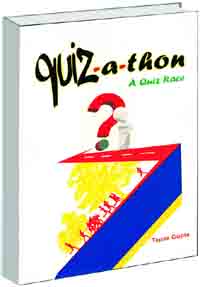 Aquiz book by a quizzing pro, Tapas Gupta, Quiz-a-thon is an extensive compilation of questions of varying levels of difficulty. Tapas has won several competitions at various levels and as he prepared for these, the idea of this book took shape.
Aimed at helping those preparing for quiz competitions, another quiz book by him is underway. A class XII student at DPS, R. K. Puram, New Delhi, it is a book for the students by a student who best understands their requirements and level.
The book covers varied topics from sports, religion, arts, history, geography and others. The format is questions followed by answers that save you the trouble of flipping to the back pages every time you want to get an answer.
With about 900 questions, the book offers a lot of information for a small book. Some of the answers are followed by more information that can be used as memory aids.