ENTERTAINMENT

MUSIC ZONE

FOOD TALK

CONSUMERS BEWARE!

GOOD MOTORING

WEBSIDE HUMOUR

CROSSWORD

WEEKLY HOROSCOPE
EARLIER FEATURE

LIFE'S LESSONS

FRUIT FACTS

CHANNEL SURFER

ULTA-PULTA

TELEVISION

GLOBOSCOPE

GARDEN LIFE

NATURE

FASHION

BRIDGE

The Great Indian Heroes
As the West commemorates its soldiers' valour in the World War-I, India, barely finds any mention in these tributes. In his book, Honour and Fidelity, India's Military Contribution to the Great War 1914-18, Capt Amarinder Singh pays a tribute to over 74,000 Indian soldiers killed in action during the war
When war was declared on the midnight of the 4–5 August, 1914, Lord Charles Hardinge was the Viceroy of India. War was declared on 5 August, mobilization in India was ordered on the 8th, and the first of the hundreds of Indian troop ships departed from Karachi and Bombay on the 24th, reaching Marseilles on 26 September.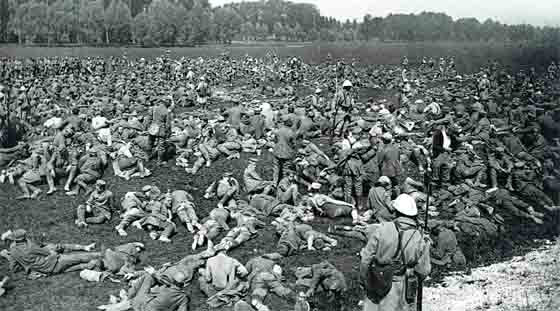 Captured German prisoners at Longueau, on the Western Front, August 1, 1916
---
'Art & Soul
Return of the Buddha
B.N.Goswamy
An exhibition of archaeological finds at Qingzhou in China toured Europe recently. The 33 selected pieces, now acknowledged as masterly works, give a glimpse into China's Buddhist past
The surprises that archaeology throws up can sometimes be stunning. Consider the manner in which Harappa and Mohenjodaro — completely unknown till then — suddenly swung into our view less than 150 years ago.
---
Fitness
good health
The winning cup
Naini Setalvad
Both tea and coffee are super-foods in their own right. However, when seen holistically, tea is a better beverage health-wise
In all events worldwide — be it an informal get-together with old friends, a black-tie affair with the biggest business tycoons or just a lazy afternoon with the next-door neighbour — tea and coffee are two omnipresent drinks.
---
SOCIETY
When play becomes work
Vibha Sharma
Unstructured play is missing in our children's life as supervised play dates and hobby classes encroach upon their childhood
Adults of today are a part of perhaps the last fortunate generation that can relate to the feeling of 'playing with abandon'. When they talk about their childhood play days, a lot is laden with the feelings of freedom, the touch of verdant grass, the feel of mud, the rustling sound of dry leaves under bare feet, the feel of first rain on the face and much more.
---
TRAVEL
A trip to Picasso's city
Malaga in Spain, which boasts of 19 museums, has reinvented itself as a centre of art and culture
Ranjita Biswas
It was a discovery of sorts to come across that in the 19th century Malaga was the centre of a sugar industry and the sugarcane came from India! Malaga, with its lyrical name, on the southern coast of Spain is more known as a jewel in the leisure travel circuit, flanked by the twin towns of Marbella and Puerto Banus. But, in fact, it has much more to offer and a long history to fall back on.

Globetrotting
---
ENTERTAINMENT
'No film can make a billion people happy'
Nonika Singh
Shah Rukh Khan's blockbuster Happy New Year may have got mixed reviews but King Khan remains unfazed by criticism. On the contrary, he dubs it a happy film and one with a long shelf life
He is happy as can be. And why not… the King Khan, badshah of hearts, Bollywood heartthrob Shah Rukh Khan has just delivered a blockbuster Happy New Year which has broken many records, including those set by his films. In Chandigarh, for a promotional drive post-release, he plays along with fawning admirers.
Bringing back the romance
Parwinder Sandhu
Three decades after giving the cult classic Umrao Jaan, Muzaffar Ali is all set to make a comeback with another period film Jaanisaar. The filmmaker chats up about his latest offering written by his wife Meera Ali and Kotwara, a couture label closest to his heart
More than three decades after he created a masterpiece called Umrao Jaan, the man with dreamy eyes, Muzaffar Ali, is all set to bring back the romance of yesteryear with his period film titled Jaanesaar.