Entertainment
'No film can make a billion people happy'
Nonika Singh

Shah Rukh Khan's blockbuster Happy New Year may have got mixed reviews but King Khan remains unfazed by criticism. On the contrary, he dubs it a happy film and one with a long shelf life



Shah Rukh Khan is the second richest actor in the world
He is happy as can be. And why not… the King Khan, badshah of hearts, Bollywood heartthrob Shah Rukh Khan has just delivered a blockbuster Happy New Year which has broken many records, including those set by his films. In Chandigarh, for a promotional drive post-release, he plays along with fawning admirers. Yes, among the journalistic fraternity, too, there are far too many. One shares how she kept karva chauth for him. Another goes ga ga and requests for a selfie with him. He humours them all… even has a ready repartee for inane queries. Why is everyone calling you a sharabi (with reference to the song in Happy New Year)? "For meri aankho mein kuch nasha sa hai," has the hard-nosed journos swooning.
But, of course, what makes Shah Rukh Khan, the superstar, is not just the adulation of millions of his fans but also his ability to take unflattering questions in his stride? Beyond stardom and fan following stands an intelligent actor who knows too well Happy New Year isn't a great film. The five greats that he has promised himself he assures will come in due course of time. And then, he will call it a day.
However, right now the focus is on Happy New Year, which he calls a happy film and one with a long shelf life. Never mind that the film has received lukewarm reviews, he defends his home production nevertheless. No, he doesn't dismiss critics, only feels, "We don't allow a film to breathe and jump to conclusions too quickly." Besides in the information age, he believes, there is an information overload. "But the point is — are you getting the right information through social media websites?"
Social media also brings another ticklish query. Hate-mongers are spreading nasty rumours about how he wouldn't contribute for calamity-struck areas in his own country yet goes ahead and does a show in neighbouring Pakistan. It certainly is an aspersion that would rattle an ordinary man. But SRK is not peeved, at least not visibly so. All he would say is, "I am a Muslim and for me charity and social service are private and personal affairs. The last place I would talk about it is on social media."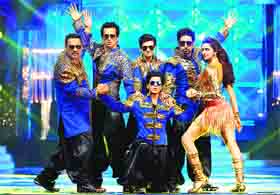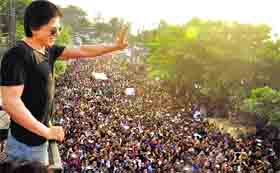 Top: A still from Happy New Year; and (above) Shah Rukh Khan waves to his fans in front of his house
Of course, friend-turned-foe-turned-friend again director Farah Khan quickly jumps to his defence calling him the most patriotic guy ever. She also shares how SRK is all heart and thus has a deep gut instinct about what will work or not.
Sure Shah Rukh is mighty proud of the stellar work he has done in films like Swades and Chak De. But should he do another Chak De? He quizzes, the amusement in his voice evident and quips with trademark sense of humour, "May be, I will, this time with a football team." Seriously, he says, one can't go around asking producers/directors to make a film like Chak De, undeniably a beautiful film.
Actually, he is all for offbeat cinema, even roots for it, entreating audiences to patronise such films. Makers like Anurag Kashyap and Vishal Bhardwaj find suitable mention. The reason why he himself set up a production company was precisely to make bigger and better films. But he avers, "There is no please-all formula. No one film can satisfy more than one billion people of this country."
Back in time when he did Swades, many of his well-wishers felt he was committing harakiri. When he plays the romantic hero, we all so love him as, over and over again, he says, "Then too many grill me — why are you repeating yourself?" So unmindful of criticism he does what comes naturally to him, act in the company of directors who pamper him.
Storytelling, he tells you, is the most compelling idea in the world, be it the way our grandmothers recount tales or when films turn raconteurs. And to silence the tribe of critics who keep hammering, 'Why not do another Chak De' he too tells a story.
"When Jospeh Heller, author of Catch 22 was asked time and again why he hadn't written another book like Catch 22, he had replied — certainly I haven't written another one like Catch 22 but nor has anyone else." The underlying import reads loud and clear, few have done what the King Khan has. Inshallah, there will be more Chak De's or even better films.
But as and when or if at all he turns a director, he will not make films like Chak De or Farah kind of films. "Why should I? I will be my kind of director."
Indeed, in the world out there, there might be two kinds of people, winners and losers, SRK we know is one of his kind and inevitably numero uno. Yet the happiest space and the best place, the monarch of all he surveys, says, is when you have nothing to lose?
Aspiring wannabes, mark his words, this is a superstar speaking who has risen from nowhere to become the marquee name that not only attracts but sells like nothing before. No wonder, he stands as the second richest actor in the world.