Entertainment
Bringing back the romance
Parwinder Sandhu

Three decades after giving the cult classic Umrao Jaan, Muzaffar Ali is all set to make a comeback with another period film Jaanisaar. The filmmaker chats up about his latest offering written by his wife Meera Ali and Kotwara, a couture label closest to his heart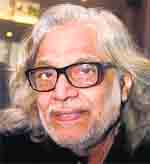 Muzaffar Ali is returning to filmmaking after 33 years. Tribune photo: Vinod Pundhir
More than three decades after he created a masterpiece called Umrao Jaan, the man with dreamy eyes, Muzaffar Ali, is all set to bring back the romance of yesteryear with his period film titled Jaanesaar.
Capable of syncing romance and drama perfectly, the 69-year-old filmmaker gifted with a multifaceted personality, was currently in the picturesque hill town of Uttarakhand taking some time off the hectic schedule. Dressed in a black blazer and matching shirt, along with his unmistakable flowing mane of white hair and neatly trimmed beard, Ali said he intended to bring the old-fashioned romance back on the silver screen.
"Set against the backdrop of pre-Independence era, Jaanesaar is a story which takes place during the period from 1857-77. Initially it was titled Raqs: The Dance Within but due to some circumstances, the name was changed.
It is a love story between an anglicised king and his courtesan. Pakistani actor Imran Abbas Naqvi and Pernia Qureshi play the main leads in the film, which is all set to release in February next year. The ghazals have been penned by Wajid Ali Shah," he revealed.
Revealing why it took him so long to make a comeback, the poet and ardent music lover, said; "Some of my last movies failed to earn a mark. I felt that perhaps I have lost the connect with the film industry and somehow was not able to deliver what was being expected. It was then that I decided to take a break and work on a few scripts. When Meera (Aliís wife) wrote the script of Jaanesaar, I immediately fell in love with it. It is a story that not only documents an important part history but also carries a beautiful tale of human relationships," he said.
"The majority of the film has been shot in Kotwara, my hometown in Uttar Pradesh. The shooting took place in my ancestral house. Some parts have also been shot in Lucknow. We chose these two locations to bring the authentic feel of the bygone era. Right from the music to the costumes, everything has been inspired from the same period," said Ali, whose last outing was Khizan in 1995.
Speaking about his label Kotwara, Ali who hails from the royal Muslim Rajput family of Kotwara, said it was his way of repaying the debt of his people and safeguarding the heritage and ancient craft of chikankari. "It was during the making of Zooni that I got fascinated with the world of fashion. Earlier, in Kotwara the main source of income was from the sugarcane farming. But now majority of households are involved in the craft of chikankari for the brand," said Ali, who had contributed towards styling Rekha in Umrao Jaan.
Talk to him about his son Shaad Ali and the proud father lights up.
"Shaad is an excellent moviemaker. Right from his childhood, he was sure about what he wanted. His moviemaking skills are very sharp. He is presently working on Kill Dill and just like his previous outings, this too would work well," he said.
Speaking about Uttarakhand, whom the filmmaker considers to be his second home, Ali said he intended to bring Jahan-e-Khusrau, the three-day annual three-day Sufi music festival organised at Delhi, Jaipur and Lucknow to Mussoorie.
"The festival was started as a tribute to Amir Khusrau, who revolutionised the poetry. It has been 14 years now that the festival was first started. Mussoorie would definitely provide an excellent venue for the same," he added.