HC raps Haryana, gives four more days to arrest Rampal
Saurabh Malik
Tribune News Service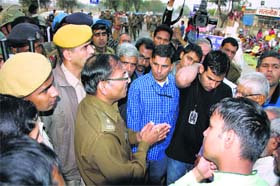 Hisar SP Satender Gupta pleads with Rampal's followers to vacate the ashram in Hisar on Monday. Photo: Manoj Dhaka
Chandigarh, November 17
A Division Bench of the Punjab and Haryana High Court today censured the Haryana Government for breakdown of state machinery and its failure to arrest and produce "godman" Rampal due to "lack of will".
While Rampal, through his counsel, gave an undertaking to appear before court as soon as his health permitted, the Bench issued fresh non-bailable arrest warrants against him and asked the police to produce him in court on November 21.
The Bench also asked Director General of Police Shriniwas Vashisht and Additional Chief Secretary (Home) PK Mahapatra to be present in court and offer an explanation in case the warrant remains unexecuted by the next date of hearing.
The Bench of Justice M Jeyapaul and Justice Darshan Singh asked Assistant Solicitor-General of India, Advocates General of Punjab and Haryana, along with senior standing counsel for UT Administration to "file a statement of account reflecting the expenditure borne by them during the hearing of the case before the High Court and also during the course of implementation of the High Court direction to execute non-bailable warrants".
The Bench made it clear to the state government that it wanted action instead of explanations; rejected Rampal's plea for additional time to address the court on the cancellation of his bail plea in a murder case; and fixed Tuesday for arguments and orders on the same. Haryana's plea for in-camera proceedings to apparently prevent its reporting by the media failed to find favour with the Bench.
As the case came up for resumed hearing this morning, Rampal did not appear before the Bench in the contempt case against him in pursuance of the court directions. The Bench questioned Advocate-General BR Mahajan on how an accused in a case was permitted to raise his "personal army" and challenge the police.
As the court was told about the human shield around Rampal and his ashram, the Bench questioned the state on the registration of case against those obstructing the administration of justice.
The Bench told Rampal's counsel that the contemnor had caused massive inconvenience to everyone and made attempts to belittle the police force, the public and even the courts.
The Bench asked the DGP and the Additional Chief Secretary to place before it in a sealed cover the operational strategy.
Ashram claims Rampal shifted, officials deny
Amid claims by Satlok Ashram chief Sant Rampal's followers that he was shifted to a private hospital at an undisclosed location last night, the district administration maintained that the sect head was sill holed up in the ashram.