M A I N N E W S
special to The Tribune

Obama offers shield to 5 m illegal immigrants
Unveils reforms allowing high-skilled foreign workers to live in the US

Thousands of Indians to benefit
Ashish Kumar Sen
in Washington DC
4.5 lakh Indians living illegally

While 5.9 million Mexicans make up over half of an estimated 11.2 million unauthorised immigrants in the US, India is the fourth top source country with 4,50,000 living in the country without papers


Obama's decision will make it easier for high-skilled immigrants — many from India — to live and work in the US without the fear of deportation


The decision does not apply to people who have recently come illegally to the US. Nor does the deal grant citizenship, the right to stay in the US permanently, or offer the same benefits that US citizens receive


With 1,68,367 H-1B visas, India cornered nearly two thirds of the total work permits for skilled workers in 2012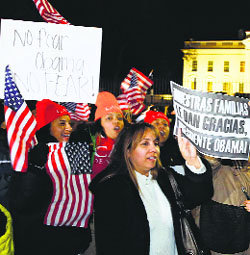 Supporters of US President Barack Obama march in front of the White House in Washington.
In one of the bold decisions of his presidency that could benefit thousands of Indian techies seeking the Green Card, US President Barack Obama has unveiled sweeping immigration reforms that will shield almost five million illegal immigrants from deportation.
In a pro-immigrant speech from the White House on Thursday night, Obama urged Americans to show compassion toward "undocumented Americans" who have worked hard but "see little option but to remain in the shadows or risk their families being torn apart."
"Are we a nation that tolerates the hypocrisy of a system where workers who pick our fruit and make our beds never have a chance to get right with the law?" he asked. "Are we a nation that accepts the cruelty of ripping children from their parents' arms?"
Describing the US immigration system as "broken", Obama wielded his executive powers in the face of gridlock in the Congress over immigration legislation. Many undocumented South Asians living in the US stand to benefit from the President's action.
"Today's proposed Executive Order could provide relief for over four million undocumented aspiring Americans, including tens of thousands - if not more - South Asians," said Suman Raghunathan, executive director of the advocacy group South Asian Americans Leading Together (SAALT).
"Coupled with proposals to expand available visas and address the long wait for many immigrants, this relief is welcome news to South Asians nationwide as we continue to work toward a legislative solution," she added. Obama's decision will strengthen security on the US' borders with the aim of stemming the flow of illegal crossings and make it easier for high-skilled immigrants, graduates and entrepreneurs — many of them from India — to live and work in the US. In an emotional appeal, Obama reminded Americans that their country is a "nation of immigrants."
"We were strangers once, too. And whether our forebears were strangers who crossed the Atlantic, or the Pacific, or the Rio Grande, we are here only because this country welcomed them in, and taught them that to be an American is about something more than what we look like, or what our last names are, or how we worship," he said.
He added "even as we are a nation of immigrants, we're also a nation of laws." Under Obama, a record 400,000 illegal immigrants were deported in 2012, earning him the reputation of "deporter-in-chief." "We are going to keep focusing enforcement resources on actual threats to our security. Felons, not families. Criminals, not children. Gang members, not a mom who's working hard to provide for her kids," the President said.
"Tracking down, rounding up and deporting millions of people isn't realistic… It's also not who we are as Americans," he added. Here's the "deal" for undocumented immigrants: "If you've been in America for more than five years; if you have children who are American citizens or legal residents; if you register, pass a criminal background check, and you're willing to pay your fair share of taxes — you'll be able to apply to stay in this country temporarily without fear of deportation. You can come out of the shadows and get right with the law," Obama said.
Some of Obama's critics in the Republican Party have a word for such a deal: amnesty. Obama denied this is an amnesty and pointed out that the deal does not apply to people who have recently come illegally to the US or to those who may come illegally in the future. Nor does the deal grant citizenship, the right to stay in the US permanently, or offer the same benefits that US citizens receive. "All we're saying is we're not going to deport you," he said. The President said his actions are not only lawful, but the kind taken by every single Republican as well as Democratic president over the past half century.
Obama travels to Las Vegas on Friday where he will sign the measures at a high school where he announced his push for immigration reform almost two years ago.
Obama's action will receive strong pushback from the Republican Party, which will control both houses of Congress in January.