Crystal gazing
These are delicate, and often come with a warning, handle with care, but as far as the popularity of crystal artefacts is concerned, there is no match. Global luxury brands spoil you for choice with the crystal ware they are making
Sonali Seth
Though crystal has been around for years, the world's infatuation with the polished version of it began at the turn of the 20th century when a Czech glasscutter named Daniel Swarovski set up a factory in Wattens, a small town in Austria, to make crystal collectibles. The sparkling jewellery that came out of the Swarovski manufacturing unit instantly caught the imagination of the fashion-conscious people around the world. What was most fascinating about the crystals studded in necklaces, bracelets, earrings and other pieces of jewellery was that these had the aesthetic appeal of diamonds but came at a fraction of the cost. Encouraged by the positive response, the company diversified and started designing and manufacturing crystal figurines of gods, angels, flowers, animals and other decor items.
Besides Swarovski, a number of other luxury brands like Lalique, Daum, Baccarat, Cashs, Preciosa, Steuben, Waterford, Kosta Boda and many more have come up with high-quality sculptures and showpieces, as the craze for crystal collectibles continues to surge.
Success story
In the first few decades of the 20th century, Swarovski crystals became an essential part of the high-end fashion because of their superior quality. The company collaborated with the world's leading luxury goods producers like Chanel, Balenciaga and Christian Dior to bring out a range of sparkling crystal-studded couture and fashion accessories, which were worn and flaunted by Hollywood icons like Marlene Dietrich, Marilyn Monroe and Audrey Hepburn.
Today Swarovski has been in business for well over a century. It has over 1,200 company-operated boutiques and over 1,000 partnered stores in 125 countries. The company also has tie-ups with the leading fashion brands of the world like Emporio Armani, Roberto Cavalli, Dior Homm, Gianfranco Ferre, Marani, Bironi and Hugo Boss. No wonder that the company clocks a turnover of astounding $3.5 billion, which is approximately Rs 21,000 crores.
Ruling the market
A number of these companies have set up shops in India ever since crystal started capturing the imagination of the uber-rich. The delicate and beautifully crafted figurines that Indians earlier brought from high-end shops in western countries are now up for grabs here as well. Though low-priced imitations too can be found in the market, expensive crystal collectibles have remained a symbol of luxury and preserve of the wealthy. Some of these are so finely created by master craftsmen that these are treated as pieces of art that can be passed on to the future generations.
Best of the lot
Crystal can be used to give shape to sculptures, characters from fairy tales, shepherds with animals, horsemen, women in traditional attire, and virtually any other depiction by the artists who create these miniature masterpieces. Apart from sculptures and jewellery, crystal is used to make chandeliers and good-luck charms, fashion accessories like belts, sunglasses, watches, smartphone covers, footwear, cufflinks and fancy scarves. These also make the most popular gifting options. Most of these sparkling crystal artefacts from leading global companies, which include high-end figurines, goblets, tumblers, vases, bowls and other accessories, are made from a combination of ultra-white silica, potash and other minerals. The high-lead content of 33.33 per cent render clarity and brilliance to these crystals. Most of the high-end crystal collectibles are usually handcrafted.
Bright and sparkling
Many companies like Baccarat, Lalique and Kosta Boda have mastered the technique of fusing colour into the glass in such a way that the colour can take on a textured look. Several companies also experiment with 24 carat gold and silver and fused them into figurines resulting in a dramatic colour effect. In fact all the leading makers of crystal collectibles are offering a host of products. Their clients include industrialists, business tycoons, and people of importance and power who could well afford these.
For a glossy effect
Though fine-art figurines can be made from various materials, the most popular ones are created from crystals, ceramics and porcelain. Many do not know the common difference among the three and when it comes to porcelain and ceramic, even the knowledgeable tend to use the terms interchangeably.
Ceramics include earthenware, bone ware, pottery and porcelain. Thus all porcelain is ceramic though not all ceramics are porcelain. Porcelain is made from clay that has a paste-like quality and is fired at high temperatures. The process was first mastered in China during the Tang dynasty. The making of the delicate idols and porcelain vases was a closely-guarded state secret. Crystal is a completely different material. It is a kind of glass that is made from silica, lead oxide, soda or potash to which other additives are added later on. The addition of lead oxide makes crystal softer than glass and allows artisans to cut and bevel it with brilliant edges. Because of its softness, lead crystal can be poured into moulds and used to make figurines, vases, bowls, jewellery and trophies.

Crafted with love
Ever so often iconic Irish crystal company Waterford brings out a design that takes the world by surprise. One such creation is the Waterford crystal lion sculpture. This hand-sculpted limited edition masterpiece is a marvel of workmanship and its intricate detailing is worth all the praise.
Price: Rs 30 lakh

A rich history
From the first sculpture of Buddha 26 years ago to over 300 sculptures today, the Liuli Gongfang company of Taiwan is world renowned in crystal art. This figurine depicts the healing Buddha surrounded by herbs and medicines.
Price: Rs 1.8 lakh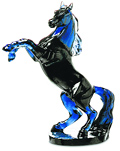 Rise and shine
Established in 1734, French luxury crystal glassware company, Baccarat offers high-end products for interior decoration. This 50 centimetres engraved and gilded galloping horse called Cheval Pegasus in a limited-edition collection of 99 pieces has diamond pointed cuts that embellish the crystal surface.
Price: Rs 17.5 lakh
Art to die for
Hand blown, hand cut and finely polished, this stunning gilded crystal vase by Czechoslovakian luxury glass company, Moser, is detailed craftsmanship at its best. Featuring a hand-painted and gilded 24 carat gold filigree centre body, it is both a vase and a stunning piece of art rolled into one.
Price: Rs 9.12 lakh

Eternally graceful
The crystal inkwell by French fashion house Louis Vuitton is a symbol of a timeless design. It is made of refined crystal and decorated meticulously with hand-crafted engravings. Its golden cap as well as its flawless transparency makes it an ideal gift for someone special.
Price: Rs 78,000

Play of light
The vase with a blush of red from the Swedish glassworks company Kosta Boda is a part of well-known Scandinavian artist Goran Warff's Mirage collection. The colours of the 6.75 inch tall vase harmonises subtly with its soft and sensual form and the play of light within the glass adds an extra dimension to it.
Price: Rs 27,000

A classic piece
The midnight blue tortue vase by Lalique represents the universe. It has been made by using two shells in shades of blue and decorated with embossed geometric medallions. Featuring a contemporary design with contrasting matte and glossy medallions, it is considered among the classic Lalique creations.
Price: Rs 2.37 lakh

Inspired by nature
This statement piece by Swarovski shows two blue jays, stunningly executed in cut crystal, perched on a silver-tone metal display. Featuring a beautiful colour combination of turquoise blue and lavender, the birds will add to the decor of any room.
Price: Rs 1.02 lakh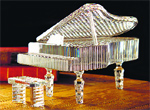 perfect replica
The Baby Grand Piano by Irish crystal company Cashs is the perfect replica of the grand piano, with the first few tones of Beethoven's Ode To Joy engraved on the note holder. The limited-edition piano resembles the real one down to its finest detail. It has a height of seven inches and length of 9.25 inches.
Price: Rs 87,000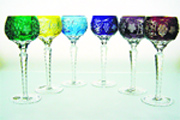 Magic of colours
Made by Hungarian glassware company Ajka Crystals, these mouth-blown, hand-cut 24 per cent lead-crystal wine glasses come in a set of six. These glasses, which can be bought in different colours or in a single colour, are made for pouring in gold amber wines.
Price: Rs 54,000 for a set of six

A bar accessory
The limited-edition, lead crystal double magnum decanter by world renowned Austrian wineglass company Riedel is free blown with three tuxedo stripes in black-red-black, which follow the contours of the lyka. This 26.75 inches tall decanter can be the pride of any home bar.
Price: Rs 1.14 lakh

Universal appeal
Pineapple is considered a symbol of welcome and abundance and that is what this art work by American glassworks company Steuben represents. The complex design of a heavy mouth blown swirled pineapple with its spear like leaves is truly a work of art that can be the highlight of any dining table.
Price: Rs 2.16 lakh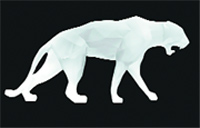 Animal instinct
This white panther handmade by the renowned French crystal studio Daum measures 28.75 inches in length and is 12.6 inches tall. The production of the panther also involves kiln-firing it for 10 days. Though in a limited edition, each piece is unique, making it a stunning animal figurine.
Price: Rs 14.82 lakh

Symbol of peace
Another Buddha by the Liuli Gongfang company of Taiwan depicts droplets falling in a deep and clear pool that a lotus blossoming in it. The crystal glass statue depicts the purity of Buddha in his omnipresent form, spreading his message of peace, harmony and wisdom.
Price: Rs 1.8 lakh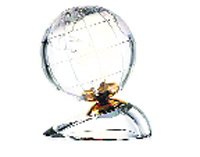 Traditionally beautiful
This crystal globe is a result of the creative efforts of the Slovenian crystal company Rogaska's glass blowers and cutters. The company continues the tradition of old-manual glassmaking skills and is known for its excellent designs like this globe, which would make a great accessory for any work table.
Price: Rs 90,000