M A I N N E W S
Police find bulletproof car, 82 mobikes from Rampal lair
Deepender Deswal
Tribune News Service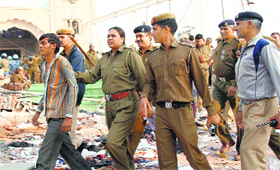 The police take a suspected Rampal "commando" into custody at Satlok Ashram. —Manoj Dhaka
Hisar, November 22
In their pursuit to nail sect head Rampal, the police today took a closer look at the FIR filed by one of their own men and impounded a bulletproof Tata Safari, a bus and a Gypsy, a tanker with 1,200 litres of kerosene, two tractors and 82 motorcycles from Satlok Ashram. Besides, four hard disks were also recovered from Rampal's room.
The first information report (FIR) lodged against Rampal mentions that his followers attacked policemen when the Barwala SHO was briefing them some 400 meters from the ashram at 12.10 pm on November 18.
"When we marched towards the ashram to hand over a non-bailable warrant to Rampal, his followers started throwing stones at us. Around 800 women were sitting at the ashram's gate and more than 1,500 men armed with 'lathis' and firearms were guarding the ashram. They attacked the policemen with petrol bombs and also opened fire on us. The RAF and the police tried to disperse the mob by lobbing teargas shells and by using water cannon. The attackers also held children and women hostage," mentions the FIR which was lodged on the statement of Barwala SHO Anil Kumar.
The police also arrested three persons who were hiding on the ashram premises taking the number to 868. Those arrested are facing charges of sedition and waging a war against the state.
The police found five rooms in the ashram's basement that were interconnected. These rooms have flat walls which double up as doors to conceal the location.
Sources said there could be another cache of arms and ammunition hidden inside the ashram.
Haryana Inspector General of Police Anil Kumar Rao said the police had compiled a list of 866 accused and were examining their antecedents for criminal record or their involvement in any other illegal activity. The list has been sent to states for their verification.
Gathering evidence
A bus, a Gypsy, a tanker with 1,200 litres of kerosene and two tractors impounded from Satlok Ashram
Police find five rooms in the ashram's basement that are interconnected
Four hard disks recovered from sect head's room
Three more persons who were hiding in the ashram arrested