M A I N N E W S
Himachal turns to Mumbai NGO to counter growing leopard scare
Pratibha Chauhan
Tribune News Service
Shimla, November 22
The scare of a sudden, ferocious attack by a driven-out-of-home leopard on villagers in the interiors of Himachal has prompted the state government to seek help from outside.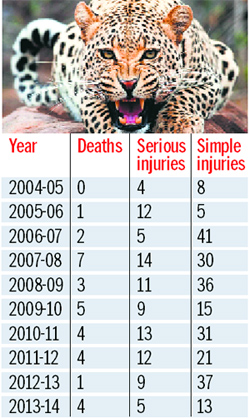 The wildlife wing of the state forest department says in the last decade, the average injury figure of the villagers is around 30. "That count is not exact and the actual figure may be higher. The point is such injuries are an ominous sign of a growing human-animal conflict," said a forest official.
The forest department has tied up with volunteers of a Mumbai-based NGO to map all districts of the state. The project includes collecting baseline information from local people about conflicts, identifying and mapping conflict hotspots, gathering information about conflict-driving causes and revealing the patterns of conflicts.
Volunteers of the NGO run by Dr Vidya Athreya, a wildlife biologist working on leopards outside protected areas, have already mapped Kinnaur district. A questionnaire has been prepared and one-to-one interaction had taken place with the victims or their families to understand the attack pattern.
"We will prepare a conflict map of the entire state so that we are able to understand the reasons that lead to a conflict and, if possible, avert them," said Chief Wildlife Warden Dr Lalit Mohan. He said the department would later radio-collar some leopards to ascertain their population. The number and place where leopards will be collared will depend on the conflict map that will be prepared after interviewing the victims.
According to the June-2004 survey, the leopard population stood at 785, including 24 in captivity. Thereafter, no scientific estimation has been done. Considering the frequent attacks by leopards, wildlife experts say there could have been an apparent increase in their number.
Having begun from Kinnaur where 17 people were attacked in the last decade, the team will move to Shimla and Solan.
"We will be able to study leopards' behaviour on the basis of timing, reason and place of attacks, which, in turn, will help us in advising people to avoid a conflict," said Satpal Dhiman, Divisional Forest Officer (Wildlife). The department also plans to install trap cameras at many places.