On a safe pitch
Reviewed by Rohit Mahajan
Playing It My Way
by Sachin Tendulkar.
Hodder and Stoughton. Pages 486. Rs 899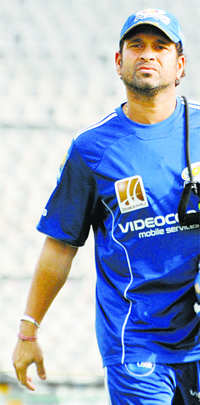 Playing It My Way could have been an interesting read but it almost fails to deliver
In over 25 years of public life, Sachin Tendulkar shied away from revelation or controversy or intimacy with the media. He began as a painfully shy teenager who quickly realised that controversy and excessive attention could distract him from the sport.
Tendulkar, with his attacking stroke play, was a rebel only on the field. Off it, he was the model Maharashtrian middle-class boy: A good son — to his parents and the Indian cricket board — who was hardworking and respectful and who never answered back. He was extremely conscious and cautious about his image and took great pains to ensure that his image wasn't sullied. In 2009, when a debate raged over the ownership of Mumbai, Tendulkar had said: "Mumbai belongs to India. I'm a Maharashtrian. I'm extremely proud of being Maharashtrian. But I'm an Indian." It could be argued that in 25 years of public life, he never uttered a sentence of any significance except this once.
Thus, even as you shell out ~899 to buy this hardback, as most cricket fans would eagerly do, you'd be struck by one dread possibility that this book would not likely be illuminated by revelation, brutal honesty and insight. The Prologue serves as a warning, actually Tendulkar writes that there are bound to be issues that can't be written about, 'events that are too personal or perhaps too sensitive'. In a sporting memoir, you expect complete honesty, you want to get into the head of the man who, for 25 years, was arguably the biggest hope of India. You want to be taken to the dressing room.
Cricket has produced great literature, great biographies and autobiographies. Sadly, this one is not one of them. Third chapter onwards, it's a chronological narration of the 24 years of his cricket career that becomes a bit like a massive match report, detailing tours and matches. What makes it dull is the absolute lack of drama, humour and, for the most part, insight.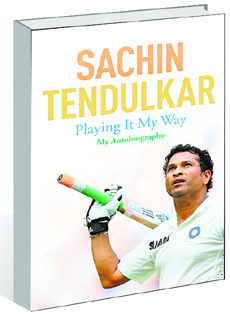 The attempts at humour are stilted and awkward, sample this bit of what Tendulkar calls 'friendly banter' at Nasser Husain: 'You did indeed, but despite his efforts, my batting average for the series was 76, with scores of 88, 103 and 90 in the three Test matches, and I was in fact nominated player of the series. I would love to have that average right through my career." This is supposed to be funny or witty!
The book is replete with clumsy lines. Sample this, "Anjali had come to the MCG to watch after being persuaded by some of the other wives", or "at one point I hung a ball in a sock below our apartment". The ghost-writer, Boria Majumdar, must accept responsibility for this, for the structural flaws, and for some glaring factual errors. Memory retains and prioritises events in terms of their importance as perceived by the individual — Tendulkar's book seems to suggest a personality with a high degree of self-absorption.
Tendulkar played with some of the greatest cricketers in the history of Indian cricket — the 'Golden Generation' that included Sourav Ganguly, Rahul Dravid, Anil Kumble, VVS Laxman and Virender Sehwag. These men were strong, talented and driven, yet we learn almost nothing about them from Tendulkar's book. There's no insight of interpersonal relationships with these men, or with the first foreigners to coach India, John Wright, Greg Chappell and Gary Kirsten.
Majumdar would have done well if he has read Aakash Chopra's Out of the Blue, in which he makes Rajasthan's unknown cricketers come to life with his excellent writing. The emergence of Ganguly and Dravid in 1996 in England is described by Tendulkar, '…we lost 1–0, though we did discover two superb talents in Rahul Dravid and Sourav Ganguly along the way.' Two superb talents — you don't say! What about Ganguly, the skipper? 'Sourav was an excellent strategist and had a very good understanding of the game. It was under Sourav that we started winning overseas test matches consistently.' That's it, nothing more about the man, who revitalised the Indian team with verve, passion and cheek.
Tendulkar has criticised Chappell; damningly, he's written that Chappell tried to lure him towards captaincy, working against the then captain, Dravid. This happened 'just months before the World Cup', writes Tendulkar. The World Cup began on March 13, 2007, So what exactly does 'just months before' means? This introduces an element of doubt in his testimony when faced with Chappell's, who maintains an exhaustive diary, which records that Chappell visited Tendulkar on May 9, 2006. Is it possible that Tendulkar — or his ghost-writer — was mistaken about the dates? Is it possible that Chappell made the offer of captaincy in 2005, when he wanted a replacement for Ganguly?
Over the 'Monkeygate' affair, Tendulkar has been practically called a liar by the Australian players in their books. "Tendulkar now supported Harbhajan's version that he hadn't called Symo a 'monkey' but instead a Hindi term of abuse that might sound like 'monkey' to Australian ears," Adam Gilchrist, the Australian wicketkeeper, wrote in his book. In his own book, while expressing anger at being labelled a 'liar', Tendulkar doesn't tell us exactly what he had told Procter in the initial hearing. This leaves an unexplained, deliberate gap in the book.
The book sparkles when Tendulkar chooses to discuss technique or tactics, his playing a cat-mouse game with Pedro Collins, the West Indies bowler, to see how Collins was holding the ball, batting with eyes closed at the nets, spotting Muttiah Muralitharan's doosra by his altered grip of the ball, widening his batting stance to become shorter, to allow Allan Donald's bouncers to sail over him, these little nuggets suggest that his book on technique and strategy would be more instructive and enjoyable. Tendulkar despised the inconvenience and inelegance of a controversy. Why did Ganguly withdraw from the Test team in Nagpur in 2004? Was there any pressure from the BCCI on the senior players to accept a "VRS" in 2008? No comments.
We have not a mention of the Ferrari on which he sought exemption from import duty. He doesn't reveal who convinced him to join the Rajya Sabha, and why attendance there was is mere one per cent. We are not informed why he chose Reliance over India when he opted to play IPL but not Test cricket for India in 2011. He complains how, in 1997 in St Vincent, contrary to his strict instructions, 'Our middle and lower-order batsmen kept playing the ball in the air'. Two of his teammates were later banned for match-fixing but Tendulkar resolutely refuses to discuss those times.
This Tendulkar story is an incomplete chronicle of his life and times. His reticence makes you wonder about the reasons for writing this book. It's certainly not for the money, for it would contribute nothing more than a drop in the reservoir of his wealth; anyway, his proceeds from the sale of the book will go to charities.
But yes, the book will sell a few million copies.