Shining glory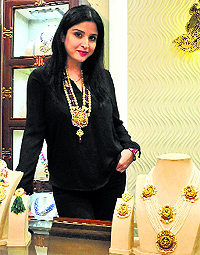 While jewellery has for long been valued as an audacious yet personal expression of art, aesthetics and wealth, it is only fair that it continues to inspire. Showcasing her collection at the Talwar Jewellers, Sector 22, Maheep Kapoor, a jewellery designer, who is also Bollywood actor Sanjay Kapoor's wife, feels that her passion for jewellery fuelled her creativity for designing it, but her constant source of inspiration and motivation was her love for the classic as well as eternal. "I remember taking to studying jewellery designing when I was pregnant with my daughter, who is now fifteen. I always aspired for making something that is timeless and classic," begins Maheep.


GEM THEORY: Maheep Kapoor. Photo: S Chandan
A story to tell
At the UT guest house on Saturday afternoon, we are pleasantly surprised by the pleasing persona of story-teller Jaishree Sethi. Her appearance dismisses all stereotypes, primarily when it comes to looks and age.
Legacy in every step
Abhinaya puts into perspective what words can't. Preserving the legacy of the rich Odissi dance form, one of India's most famous danseuses, Madhavi Mudgal, is all prepped to perform a solo and a duet (with niece Arushi Mudgal) in Chandigarh on Saturday.
Replete with colour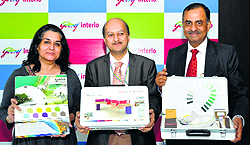 Godrej Interio, innovator in the furniture category, has carried out an extensive study across 650 offices and 150 designers in order to understand the concept application of colours to work spaces. The study entailed expert views on the 'future of workspaces'.


Latika Khosla (L) is a well-known colour and trend analyst

Wonder on two wheels
British motorcycle brand Triumph Motorcycles India Private Limited has announced the opening of their dealership facility in Chandigarh called Triumph Krishna. This is the ninth dealership for Triumph Motorcycles in India.
star track
Behind-the-scenes at Arpita's wedding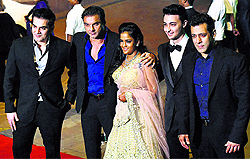 Arpita Khan and husband Aayush Sharma have been gifted a high rise apartment on Bandra's famous Carter Road by her family. They wanted the couple to stay close to them instead of moving to Delhi. This will help Aayush's acting ambitions as well.


Darling sister: Bollywood actor Arbaz Khan along with brother Sohail, sister Arpita and her husband Aayush Sharma and Salman Khan during the wedding reception in Mumbai. —PTI

In pursuit of perfection, once again!
Aamir Khan's Christmas release P.K. is just around the corner and he has completely dedicated his dates to the film. The actor has dedicated 43 days, before the release, to the film. Aamir had recently taken a vacation with his wife Kiran and son Azad in Japan, where he had gone to attend the Tokyo film festival, after which they stayed back to celebrate Kiran's birthday.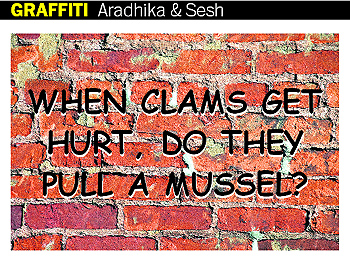 chatter box
Return of Vikram Betal
Revisit a moment of your childhood with the comeback of Vikram Betal on the small screen. This interesting collection of inspiring stories that aimed at teaching kids lessons on life, while entertaining them is slated to make a comeback on your TV screen.



Balancing act
The year ahead
If your birthday is November 23...