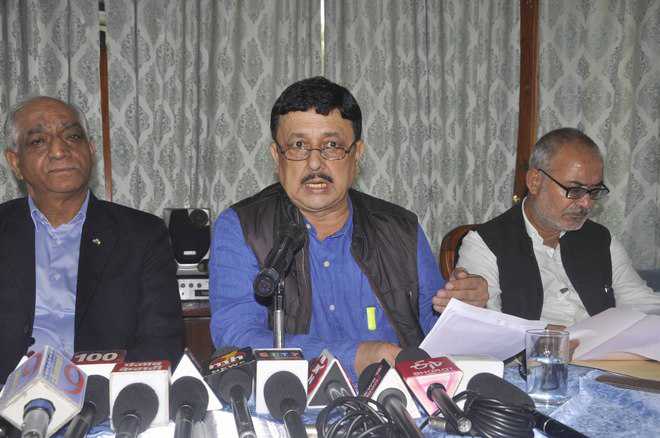 singhking99@yahoo.com
Tribune News Service
Shimla, September 7
Several private power producers under the banner of Himalaya Power Producers Association(HPPA) and Bona Fide Himachali Power Producer Association (BHPPA) on Friday demanded that either the state government should shut down the hydropower sector completely for investors, or it should revive the same by bringing back the private power developers who are leaving the state.
The BHPPA chief, Rjaesh Sharma, said his association condemned the comments by some legislators terming the private investors as 'hydropower mafias' in the Vidhan Sabha recently.
He said the government had not waived-off 12 per cent royalty on the power projects, but has deferred it for the first 12 years to facilitate the power investors to clear their loans.
The state government should give complete waiver of the royalty for the initial years of debt servicing as is the case in Uttarakhand and other states, he added.
Sharma further said, due to very high royalty rates in Himachal Pradesh, the investors are leaving the state. Reliance, Tata, Moserbaer and L&T have left the state due to the poor-investing atmosphere. He said the state wanted to achieve 1,800 MW, but only 110MW of power projects were achieved from 2014 to 2018", Sharma said. The BHPPA and HPPA claimed that Himachal was losing Rs 1,583 crore of tax collection, besides revenue loss and loss of jobs on account of non-tapping of power projects. The tariff in Himachal Pradesh is the lowest in the country ranging from Rs. 3.79 per unit up to 2MW to Rs 3.44 for 25MW. In contrast, Uttrakhand has adopted the central regulator notified tariff for hilly states ranging from Rs.5.17 per unit for 5MW to Rs.4.36 upto 25 MW projects.
Sharma said the government should either close this sector for investors or it should encourage it by reducing royalty. "The hydropower sector has become totally unviable as it costs Rs. 10 crore per MW and state pays very low tariff", he pointed out.