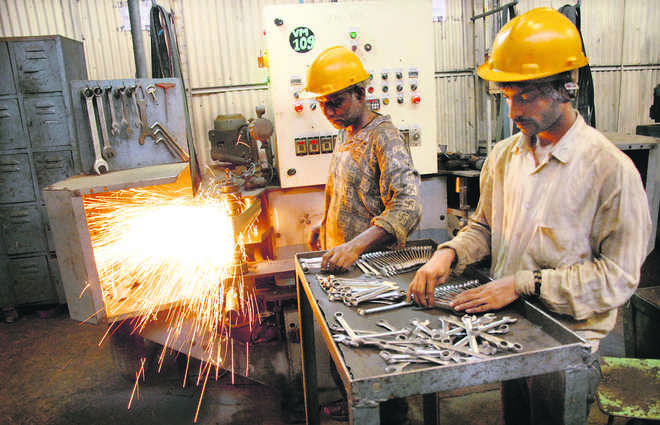 editorial@tribune.com
Ruchika M Khanna
Tribune News Service
Chandigarh, July 15
The Capt Amarinder Singh government has managed to get investment projects worth Rs 50,540 crore in the first two years of Congress rule in the state.
While governments are often criticised for signing just MoUs with companies for investments worth thousands of crores, with no projects effectively taking off, the Congress government has managed to ensure both greenfield (new) and brownfield (expansion by existing industrial investors) investors take their projects off the ground.
These investors, most of them in the manufacturing sector (320 having investment of Rs 30,486 crore), have already submitted their detailed project reports, bought the land and started construction of their facilities. While some investments are still in the construction phase, a sizeable number of these investors have started manufacturing.
The investors, 138 in service sector, 123 agro and food processing, 43 real estate and housing among others, include foreign investors as well as old investors like PepsiCo, HPCL-Mittal Energy Limited, Swaraj division of Mahindra and Mahindra, Nahar Industries, Sportking, Ludhiana Beverages (Coca Cola) etc.
The major foreign investors include Walmart, Think Gas of Singapore, CN IFFCO of Spain, and Verbio India of Germany. The pharmaceutical industry, which had taken flight to the nearby hill states to avail tax exemptions there from early 2000s, has once again set base in the state, with 12 units coming up with a collective investment of Rs 756 crore.
Rajat Aggarwal, CEO, Invest Punjab, told The Tribune that it was for the first time that any state government in Punjab had breached the Rs 50,000-crore investment mark, where projects have actually taken off. "This is mainly because the state government made its presence felt as a viable investment destination at the national and international fora throughout the past year, providing cheap power at the rate of Rs 5 per unit, ease of doing business and skilled manpower with good industry-labour relationships," he said.
Interestingly, among these investments that have taken off are also over 30 steel units in the steel town of Mandi Gobindgarh. Besides, 25 units that have been revived after being shut down in 2014-15, at least six new units have also been set up.
---
Statistically speaking...
708 projects worth Rs 50,540 crore have taken off in the past two years. Of these, 320 are in manufacturing sector, 138 services, 123 agro and food processing, 43 real estate, and 23 education and skill development
Invest Punjab estimates that it will create 1.71 lakh jobs
---
About the initiative
The Punjab Bureau of Investment Promotion (Invest Punjab) is an initiative of the state government to act as single point of contact for facilitation of investors
It is also a one-stop office for providing state-level regulatory clearances and approvals for fiscal incentives.