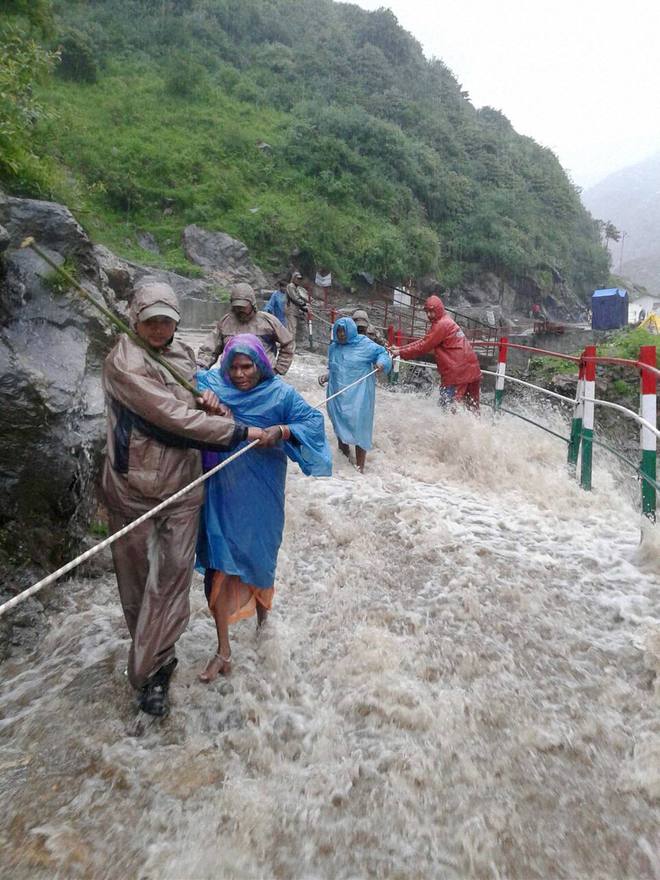 singhking99@yahoo.com
Tribune News Service
Dehradun/Mussoorie, June 27
The Char Dham Yatra remained partially disrupted in Uttarakhand even as 1,450 pilgrims stranded in Chamoli district were rescued today. The Kailash Mansarovar Yatra, however, resumed after a day's halt. Chief Minister Harish Rawat said all pilgrims in the state were safe and efforts were on to repair the damaged bridges en route to Hemkund Sahib and Kedarnath shrines.
(Punjab page: Hundreds of Hemkund Sahib pilgrims evacuated)
Road connectivity to Kedarnath, Badrinath and Hemkund shrines remained suspended but the pilgrimage continued via helicopter. The Gangotri pilgrimage remained unaffected as the highway was opened to bigger vehicles today.
The Border Roads Organisation had opened the route for smaller vehicles on Friday. The pilgrim route to Yamunotri had also been restored.
Rahul Jugran, a senior official at Disaster Management and Mitigation Centre, Dehradun, said 850 persons stranded at Gobind Ghat and Ghangaria were flown back to safety to Joshimath. Another 600 pilgrims stranded at Byundiar were rescued by the State Disaster Response Team officials and taken to safe places on foot.
After a day's halt following bad weather, all 56 pilgrims of the fourth batch of the Kailash Mansarovar Yatra today reached Gala camp after trekking 5 km from Mangti motorhead. The route was diverted towards Gala instead from Sirkha.
Meanwhile, Uttarakhand's border district of Pithoragarh today experienced mild tremors. The earthquake, measuring 3 on the Richter Scale, hit the district around 11.34 am, said the Dehradun Indian Meteorological Department Office. No loss of life or property was reported.
Traffic on the Rishikesh-Kedarnath highway remained disrupted as Army and district authorities worked to make a temporary bridge at Sonprayag, where a bridge was washed away yesterday.
The Rishikesh-Badrinath highway also continued to be blocked at Hanumanchatti and Lambagad following landslides. Rivers continued to be in spate with the water level in the Ganga at Haridwar touching the 291.85-m mark.
A total of 15 village roads in Pauri district, six in Almora district and three village roads in Pithoragarh district remained blocked due to landslides. Uttarkashi District Magistrate Indudhar Baudai took stock of disaster-related measures and directed officials to activate the seven-desk system constituted to deal with any disaster-like situation in the district.