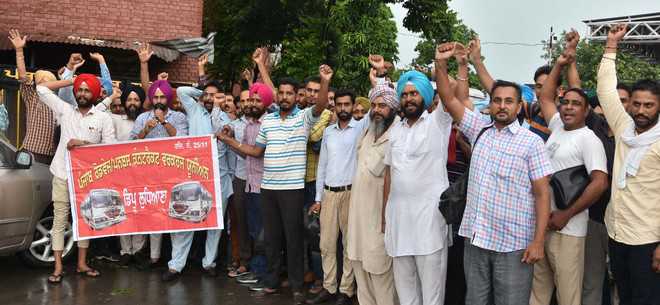 editorial@tribune.com
Tribune News Service
Ludhiana, July 16
A large number of passengers travelling to various parts of the state had a tough time as the Punbus Contract Workers Union of Punjab Roadways started its three-day strike to press for their demands on Monday. The passengers were seen scrambling to board private buses outside the bus stand amid heavy rain.
More than 1,800 buses of Punjab Roadways stayed off the road. The local bus stand wore a deserted look. Only the buses run by the PRTC and those owned by private operators were plying. The private bus operators took full advantage of the strike, as they overloaded their buses with passengers.
It is for the second time in this month that the Punjab Roadways staff have gone on strike. Earlier, its employees had observed a strike in the first week of July in support of their demands.
The Punbus Contract Workers Union staged a dharna at the bus stand and later carried out a rally.
Punbus Contract Workers Union (Ludhiana) president Satnam Singh said the state government had been unnecessarily dilly-dallying on their demands. "We have been raising these demands for a long time. We had no option but to go on strike because the government is showing no seriousness in meeting our demands," he added.
Top Stories