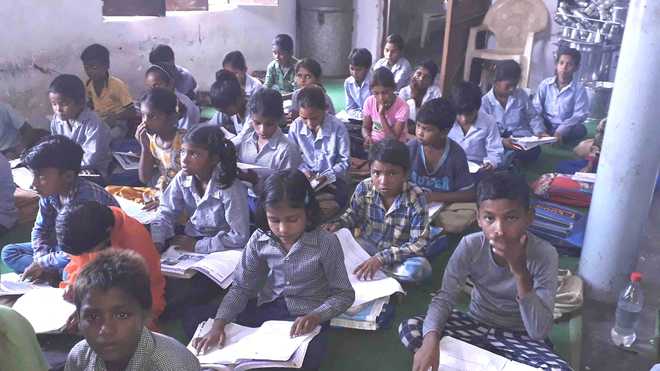 editorial@tribune.com
Bijendra Ahlawat
Tribune News Service
Palwal, August 12
Students Government Primary School at Fatasko Nagar village in the district are facing inconvenience in the absence of a building.
The school is operating from a chaupal (community building) since it was set up about 10 years ago.
"Over 120 students enrolled here have to go to the chaupal in the village to attend classes as the school building is yet to come up," says Arvind Kumar, village sarpanch.
"Though we have taken up the matter with the authorities, including the elected representatives and the district officials, the issue stands unresolved," he claims. The school, say locals, had been started with the assurance of a building within a year, but non-availability of land and a tussle between various groups within the village have resulted in the matter hanging in balance. We are prepared to contribute if the authorities concerned (Education Department) have any plan in this regard, said the village sarpanch.
"With a teacher strength of five, all classes up to V are held in the 'chaupal' and all the students have to sit on the floor as there is no furniture here. Villagers say problems aggravate during the monsoon and summer. Many a time, students have to sit in the open as it is not possible to adjust all students in one room or hall," said a member of the school staff.
Admitting that the school was being run from the 'chaupal', Anil Sharma, district elementary education officer, blamed it on the failure of the village panchayat to provide land for the building. "Had the village provided the land, the building would have been ready as adequate funds for its construction are available," he said, adding efforts were on to find a solution.
The district has a total of 369 government primary schools having a student strength of 53,000.