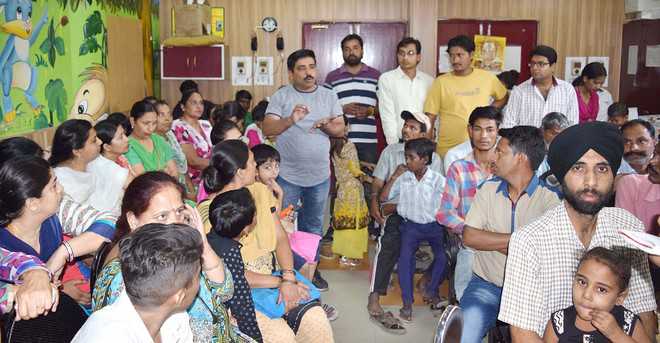 Aparna Banerji
Tribune News Service
Jalandhar, May 8
A serious lapse in the treatment of Thalassemia patients at the local civil hospital has surfaced, with as many as 35 patients undergoing treatment at the Thalassemia ward in the civil hospital, having been tested positive for Hepatitis C after their received blood transfusion from Hepatitis C infected blood. While majority of the patients' parents weren't even aware of their children getting Hepatitis C until today, it was during March 10 to 17 that the tests of these patients conducted from a local lab confirmed that they had tested positive for Hepatitis C.
Meanwhile, the MS Civil Hospital KS Bawa has ordered an enquiry into the matter by Senior Medical officer Chanjit Singh and has also ordered the retesting all Thalassemia ward patients for HCV, HIV and anti-gens. Bawa has also confirmed a meeting of the 12-member Blood Transfusion Committee shall also be held in this regard soon.
While the warning bells for the children testing positive were received as early as January 2017, when as many as 11 children tested positive for Hepatitis C, in March again, as many as 35 children tested positive for the disease, during routine tests, but surprisingly, majority of the patients said they weren't even informed about their children suffering from the disease. A number of parents sharing the reports broke down at the civil hospital today, worried about their children's future.
While in all, as many as 122 patients are registered at the Thalassemia Ward of the civil hospital in Jalandhar, 100 patients were regularly receiving treatment, of whom 35 have tested positive and the total number of positive patients could go much higher. Authorities conceded that 50 per cent of parents did not know that their children had tested positive.
Confirming that 30 patients below 18 years of age and five above 18 years of age had so far tested positive, MS Thapar and TS Bhatia, who run the Thalassemic Children's Welfare Association which runs the Thalassemia ward at the civil hospital said, "In batches of seven to eight, the patients had been getting testing doe from a private lab from march 10 to March 17. Initially we weren't aware of many patients coming put positive either, since we are no doctors. But eventually we came to know."
When questioned on how could infected blood have been administered to patients, Blood Transfusion Officer (BTO), Civil Hospital, Jalandhar, Gagandeep Singh said, "We have been properly testing all the blood bags which we get in and place for transfusion. The Eliza testing was being done with third generation kits. After 11 patients tested positive for Hepatitis C earlier this year, we validated the tests and finally began cross checking the already tested blood with Rapid tests from March 27 onwards. This had been started independently by me in capacity as BTO because as per law, double testing isn't permitted. Various samples also came out positive, but we only administered the blood to patients in which no Hepatitis C infection was confirmed."
66-day window
The BTO said the only explanation could be that among some donors the tests shows negative results within a 60-66 day window period even if the patient is HCV positive. However, the infection manifests and shows in a test only after the 60-day window period, after which the tests come out positive.
Thalassemia ward at the mercy of NGO
While the Thalassemic Children Welfare Society has been independently running the ward with help from the BTO as well as the diagnostic companies, all the tests of the patients had been conducted by independent labs since they have been offering the conducting of tests subsidised rates of Rs 700 per patient. In addition to this, the ward has no dedicated doctor and sweeper and sustains itself only on a single nurse. The NGO head TS Bhatia said the medicines were also being provided to patients through special arrangements from them with pharma companies and neither had the medicine bills – required to be cleared by the MS – had been cleared for the past three months.
Parents speak
Manjit Kaur (48), mother of Babanpreet Kaur (25), said her daughter had tested negative for HCV in December 2016, but after the tests conducted this year, she tested positive. Kishan Thapar, whose son Aman Thapar also tested positive in March, came to know about the disease today itself. Other parents whose wards tested HCV positive, included Simrat (28) whose son Manikaran tested positive, Sandhya (27) whose son Pradhyuman tested positive, Surinder Singh (28) whose son Navraj Singh (9) tested positive.
While all these families are from Jalandhar, parents said they were never even informed by PGI doctors or other staff, including the hospital paediatrician, that their children had tested positive.
A parent Sarabjit Singh said, "One of the key problems faced in the ward is that we never get any doctors. There have been times our kids got infections, but the paediatrician just asked us to go home and it would be alright. The NGO is the only one sustaining us, without them we would not have received any support."
There is no post of paediatrician at the ward and so far, the BTO was the only doctor associated with the ward.
MS Speak
I ordered an inquiry into the matter by the SMO last evening. As far as the bill clearance is concerned, this is done from the RBSK. But if there is a matter here, we shall sort it out. We have also ordered a retest to be conducted of all the thalassaemia patients at the thalassaemia ward so that all the patients who have contracted the infection can be determined. A meeting of the doctors and officials of the District Transfusion Committee shall also be held soon to discuss the issue. We are looking into what lapses caused the infections. A doctor for a two-to-eight job has also been deputed at the ward. A pharmacologist has also been deputed under the BTO after the lapse surfaced. — KS Bawa, Medical Superintendent