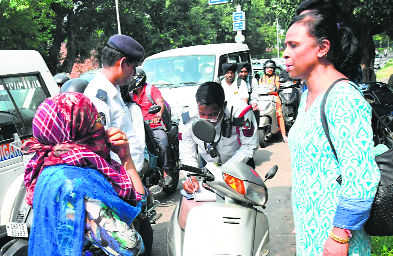 editorial@tribune.com
Tribune News Service
Chandigarh, September 11
The UT traffic police have intensified their drive against women riding two-wheelers without helmets. As many as 391 women have been issued challans in the past six days.
Although the notification regarding making the helmet compulsory for women was issued by the UT Administration on July 6, 2018, and the traffic police were supposed to start issuing challans for the offence from September 5, 2018, due to various issues, the challans were not issued. As per the notification, only Sikh women wearing a turban are exempted from wearing a helmet.
After the implementation of the amended Motor Vehicles (MV) Act, the traffic police decided to start challaning women riding two-wheelers and also those riding pillion without wearing helmets.
As per the police statistics, 206 women have been issued challans for riding a two-wheeler without a helmet, while 185 women have been issued challans for riding pillion on a two-wheeler without wearing a helmet. Instances of women two-wheeler riders entering into arguments with traffic cops have been witnessed in the past few days after they were stopped for not wearing helmets.
The officials said women were now getting aware that wearing a helmet is compulsory following which a large number of them had started wearing helmets. As per the amended MV Act, the fine for helmetless riding has been increased from Rs 300 to Rs 1,000.