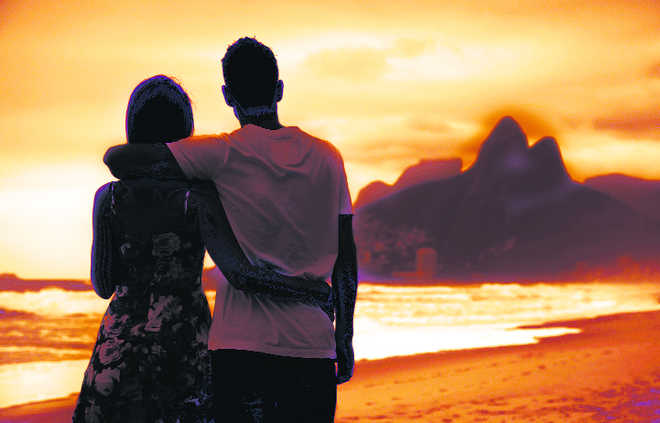 ROBINSINGH@TRIBUNE.COM
Geetu Vaid
Do we need eyes to see the world or one can 'see' much better with other senses? Is it possible for something lost to come back in the same form? Is the desire for unconditional love a mirage? These and many other such queries lurk in the shadows as one turns page after page of the dark and melancholy world created by K.R Meera in The Unseeing Idol of Light. Building on the seemingly tame plot of a man's search for his wife after her mysterious disappearance, Meera uses her mastery over prose, language and storytelling to create a gripping tale that sucks you in the chasm of complex human psyche.
The sudden and mysterious way in which Prakash's eight-month pregnant wife Deepti disappears during her train journey from Cochin to Calicut is the backdrop for the narrative as one is introduced to the agony of the man looking for his wife for 10 years. As Meera treads in the twilight of the realm between vision and blindness and light and darkness, Prakash's loss of eyesight due to the shock, is also used as a tool to highlight the dichotomy of human relationships and feelings. "Sight is nothing but half light and half imagination.....You see what you wish to see. And you avoid what you don't want to confront". No wonder then that a blind Prakash actually "sees" more with his other senses as he relentlessly continues the search for the love of his life, Deepti. But his complete volte face when a woman is finally identified as Deepti by her father and his friend Shyam, adds to the suspense. His sudden surge of emotions for Rajani, with whom he has a torrid affair, is confounding and so is his unabashed unconcern about the feelings of his friend and father-in-law.
Rajani, who has a troubled past and an ominous death wish enveloping her, however, is not ready to be the second best for him and goes "missing" from his life.
It is this warp and waft of light and dark, love and lust, hope and despair, faith and betrayal, sympathy and apathy, with which the dark tapestry of plot has been woven. Several plots run parallel to the main one and much to the author's credit each of the sub plots is seamlessly stitched into the main one. Thus Shyam's obsession with clean underwear has its genesis in the search for Deepti. So is his marriage, the delicate bond between Suraj and Rajani, Valiyamma's curt cutting of cord with her errant husband, Abha Munshi and Ravi's relationship, all of these are woven well with the main story.
Much like her earlier works like Poison of Love and Hangwoman, Meera's quintessential visual imagery is a striking dramatis personae yet again. The haunting imagery of bats hanging upside down from trees as a reminder to Prakash of his father's suicide is a recurrent image. Suicides, sexual violence, bodies in morgues too return time again as the story progresses.
Much in consonance with the title, the metaphor of light runs deep into the story and even mirrors in the names of the characters. Thus Prakash is the light in search of Deepti, the luminance. Shyam is the dusk or twilight, young sightless Suraj is the sun. Rajani, is a dark and tempestuous night that hopelessly follows Prakash who is as unattainable for her. Interestingly Rajani marries Chamdramohan (moon) but is not able to stay in his house for long. Then there is the serene Jyoti, who may or may not be Deepti. Prakash's father is Ravi (sun) who was in love with Abha (radiance). So the metaphor of light is unending here.
For Meera the personal never leaves her stories. Quite predictably then her journey to be a writer started with her efforts to repair herself as she used to rewrite her own experiences and she admits that she has paid a price for the kind of stories she tells. Her writing is her revenge as well as a revival, and a rediscovery of herself.
In this intriguing and gripping tale, Meera maintains the suspense and almost mercilessly keeps the readers hanging. She is not giving answers and much like her 'half light half imagination' you are left to find your answers. The original work in Malayalam Nethranmeelanam had been translated exquisitely by Ministhy S.