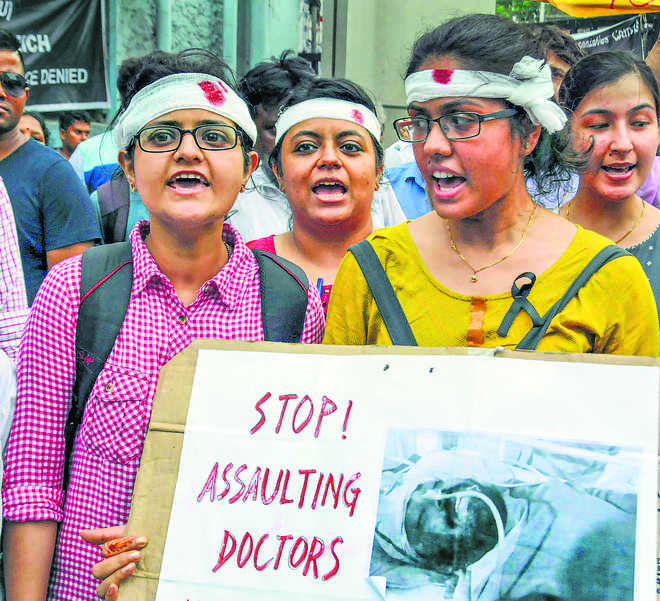 Soham D Bhaduri
Soham D Bhaduri
Healthcare commentator
The uproar following the gruesome attacks on junior doctors in West Bengal quickly amplified into a nationwide agitation and has pushed to the fore two pressing demands of the medical fraternity: enhanced security at healthcare establishments and a law to curb violence on healthcare providers. It has led the Union Health Minister to ask the government to make such attacks a non-bailable offence with a jail term of not less than 12 years.
As the situation slowly simmers down, it becomes necessary to clear the smokescreen created due to emotional, communal, and political narratives and look for hard-headed solutions to medical violence. Two broad approaches in this direction can be understood: first, discouraging instant and violent retribution in case of perceived malpractice or negligence; and second, facilitating redress of grievances through proper modes. The former would require strong and effective laws and adequate security arrangements in healthcare establishments, while the later would call for reforms in the medical malpractice system.
While a law for punishing malefactors is being pressingly demanded, it is important to note that many states already have such laws in the form of medicare persons and medicare institutions Acts. West Bengal, Maharashtra, Odisha, Rajasthan, Punjab, Andhra Pradesh, Tamil Nadu and Telangana have already made violence on doctors a cognisable and non-bailable offence, while it is cognisable and bailable in Chhattisgarh. Earlier this year, a private member Bill along similar lines was tabled in the Lok Sabha, which sought an increase in the quantum of imprisonment and penalty.
The problem lies not in non-existence of laws but in their gross under-enforcement. Despite over a decade of such laws being in place in various states, very few instances of conviction and punitive action have emerged.
This is compounded with extremely scarce awareness of such laws at the local level: often, FIRs get denied despite the offence being cognisable; bail is awarded when non-bailable; and police officials display scant consciousness of the law and its provisions. While an overarching central law with a raised punishment quantum, as has been asked for by the IMA and advocated by the Health Minister, may sound like a strong deterrent — the key will again lie in monitoring and ensuring its enforcement and timely conviction of culprits.
Further, punitive measures should be supplemented with a disentitlement provision in order to be more effective. Often, a patient party adopts violence while hoping that their complaint about medical negligence will be received and accepted afterwards (albeit delayed), partly vindicating their violent conduct.
Any complaint or claim of medical negligence or for compensation by the patient's party must automatically become null and void if violence has been resorted to, and such a party must be debarred from registering any such complaint or claim with any court or tribunal. This addition to the existing laws can make for a stronger deterrent to would-be offenders.
But doing the above without cultivating responsive redress mechanisms for medical malpractice would be self-defeating and counter-productive. There is a widespread perception among the laity that laws for medical negligence are weighed in favour of negligent doctors who mostly go scot free. This is a significant contributor to violence. Many, especially small healthcare establishments, lack standardised procedures for handling consumer disputes and negligence. Extreme difficulty of proving negligence; inordinate delays in processing of cases; the stultifying process of going through complex legal hassles and tons of paperwork, often to little avail; and inconsistency in awarding compensation create disillusionment with the system.
Further, we have a poor track record of disciplinary action — between 2012 and 2018, only 167 erring doctors have faced action in the form of temporary suspension, with no permanent cancellation of licences. It needs to be noted that revamping the malpractice system doesn't imply simply increasing the quantum and severity of penalty on errant doctors — which could have adverse outcomes like defensive medical practice — but making the system more responsive, swift, and accessible. It would also include creating widespread awareness about the grievance redress apparatus, which is currently lacking.
Strong legal deterrents and mechanisms for grievance redress become indispensable, especially because ensuring robust security arrangements at all levels of healthcare establishments is immensely challenging and may even border on infeasibility — even though they are highly warranted. Small and medium-sized hospitals with varying infrastructure levels and standards of care, which are highly prone to violence, find it hard to afford enough paramedical staff, let alone security personnel.
India has 25,743 primary health centres (PHC), 5,624 community health centres, and 764 district hospitals — entailing severe rationing of security services given our meagre public health spending and prioritising sensitive areas like ICU wards and casualty — even though a lower-level centre like a rural PHC is no less prone to violent incidents.
This finally leads to our perennial want of greater investment in public health and stronger regulation of private and public healthcare. Like all roads eventually leading to Rome, the final prescription for violence is a repair of the broken health system and bolstering of the law and order machinery.
All readers are invited to post comments responsibly. Any messages with foul language or inciting hatred will be deleted. Comments with all capital letters will also be deleted. Readers are encouraged to flag the comments they feel are inappropriate. The views expressed in the Comments section are of the individuals writing the post. The Tribune does not endorse or support the views in these posts in any manner.
Top Stories