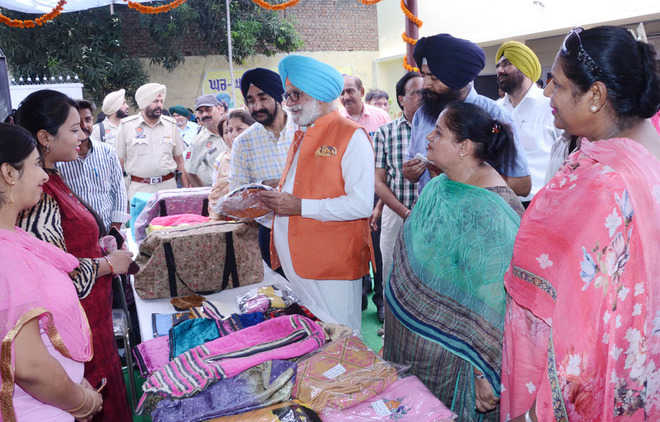 editorial@tribune.com
Ashok Kaura
Kapurthala, June 10
The Kapurthala district administration has taken a unique step towards women empowerment by opening an outlet at Red Cross Bhawan here from where women self-help groups (SHGs) will be able to sell items and products made by them.
The outlet, aptly named 'Bibian di Apni Dukaan — Bazaar Naalo Sasta Atey Shudh Samaan', (women's own outlet – Better products at prices lower than the market) was inaugurated by Kapurthala MLA Rana Gurjit Singh this morning.
Appreciating this effort, Rana Gurjit Singh said, "The entire world celebrates International Women's Day on March 8 every year, but women empowerment in the real sense will take place only when the women become economically independent. And, 'Bibian di Apni Dukaan' is indeed a big step towards this direction."
DPS Kharbanda, who was working as Director (Industries), Punjab, prior to assuming the charge of Kapurthala Deputy Commissioner in February this year, stated, "The Government of Punjab is focusing on employment generation through self-employment. There are many women self-help groups (SHGs) working in the state, engaged in making a wide variety of items such as pickles, squashes, jams, chyawanprash and other ayurvedic and herbal products, such as soft toys, footballs, carpets, embroidered items and suits. What they require is a platform to market their products directly to the consumers. 'Bibian di Apni Dukaan' is the first such platform provided by the district administration through its philanthropic arm, District Red Cross Society (DRCS)".
Divulging details, Kharbanda, who is also the president of the DRCS, added that the outlet would be operated by sales girls, who would sell products on commission basis, under the supervision of the DRCS.
The Deputy Commissioner added that sometime later as the concept picks up and sale at the outlet becomes regular, the administration might consider providing a three-wheeled goods carrier to the outlet to collect the items and products directly from their women SHG workplaces and bring it to the outlet for onward sale to the public.
He added that more such outlets would be opened at different urban hubs located at sub-division/block headquarters so that poor women didn't have to travel long distances to sell their products, which could be sold at their doorstep.
The Kapurthala MLA appealed to the audience and the mediapersons to spread information about the outlet.
Kapurthala SSP Satinder Singh appreciated the effort and hoped that it would grow and help improve the economic condition of women.
On the occasion, former MLA Rajbans Kaur Rana, ADC (G) Rahul Chaba, ADC (D) Avtar Singh Bhullar, Assistant Commissioner Dr Shikha Bhagat, SDM Varinder Pal Singh Bajwa, Bholath SDM Sakatar Singh Bal and others were present.