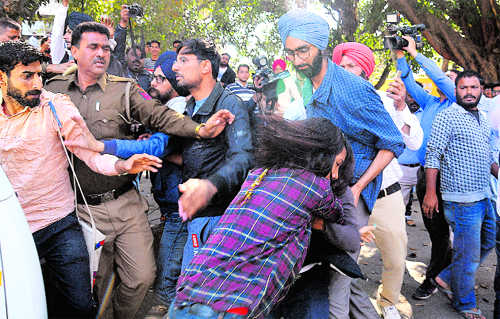 vermaajay1968@gmail.com
Tribune News Service
Chandigarh, February 27
A minor clash took place between supporters of the ABVP and the SFS on the Panjab University (PU) campus today when an SFS member termed supporters of the ABVP at Ramjas College in Delhi "goons". The police rounded up eight supporters, four each from the ABVP and the SFS, from the university.
The supporters of both student parties had a heated argument at the PU during a protest held by the ABVP against the SFS alleging that it had used derogatory remarks against the Army during a discussion on the campus.
Later, both parties raised slogans against each other at the Student Centre. The PU security staff intervened, but failed to control the situation following which the police were called.
Supporters of both parties entered into a scuffle four times. PU chief security officer Jatinder Grover said a written complaint had been submitted to the police along with the video footage of the incident for action.
Allegations and counter-allegations were levelled by both parties against each other over the clash.
ABVP members alleged that its woman supporter was manhandled by the SFS. However, the SFS claimed that a woman supporter of the party had tackled the ABVP supporter, who tried to enter into a scuffle.
"We condemn the violence by the SFS. The police have arrested ABVP members Harmanjot Singh, Saurbh Kapoor, Kushal Kondal and Akshay," said Harmanjot Singh of the ABVP.
"After the JNU and the DU, the ABVP today tried to impose its pseudo nationalist agenda in the PU and demonstrated against the SFS. After the demonstration, a local journalist invited the SFS for a talk. While the journalist was conversing with members of both student parties, ABVP 'goons' showed their true face and started using abusive language," said Daman of the SFS.
"Ramanpreet Singh, Ravinder Singh, Gurpreet Singh and Ramanpreet Singh were taken into police custody following the scuffle," said Daman.
The SFS had organised a protest at the PU on Saturday and quoted an NHRC report on an incident of rape of 16 tribal women allegedly by the security forces in Chhattisgarh. The ABVP had organised a protest against the SFS and other Left organisations today alleging that they had shown the Army in poor light during their protest on Saturday.