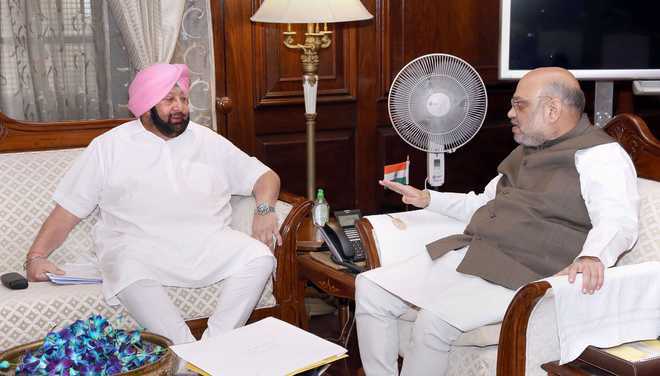 harinder@tribunemail.com
Pradeep Sharma
Tribune News Service
Chandigarh, September 20
Union Home Minister Amit Shah today urged Punjab to act like an elder brother and adopt a positive approach in resolving Sutlej-Yamuna Link (SYL) canal issue with Haryana.
Speaking at 29th meeting of the Northern Zonal Council here, Shah said the states must resolve pending water issues by rising above political consideration. "The Centre is committed to resolving all such issues," he said.
Shah's comments came after Punjab and Haryana Chief Ministers raked up the contentious SYL issue at the meeting. The Supreme Court, earlier this month, granted four more months to Punjab, Haryana and the Centre to resolve differences on the issue. Earlier, Haryana CM Manohar Lal Khattar, while describing SYL canal as the lifeline of Haryana, alleged Punjab was not giving Haryana's full share in the Ravi-Beas waters. As against demand of 36 MAF water, the availability was only 14.7 MAF with Haryana, he said. Despite that, Haryana was giving extra water to Delhi in compliance to the apex court's order, he added. Punjab CM Capt Amarinder Singh said, "Punjab has no surplus river water to share." He, however, sought cooperation to improve water-use efficiency to conserve precious resource in view of the fast-depleting water table.
Rajasthan CM Ashok Gehlot said a meeting with the Punjab Government had already been held on the issue. He said his government would accept court's decision on riparian issues.
On drugs, Amarinder reiterated his government's demand for the formulation of a comprehensive National Drug Policy. Khattar echoed a similar sentiment. Shah reiterated Centre's zero tolerance policy towards offences under Narcotic Drugs and Psychotropic Substances Act.
Himachal CM Jai Ram Thakur highlighted the issue of rehabilitation of Pong Dam oustees; representation of HP as a partner state in the BBMB, early acquisition of land by Haryana for the construction of Chandigarh-Baddi rail link, demarcation of boundary with Ladakh and development of an international airport at Mandi.
Chandigarh Administrator VP Singh Badnore sought more cooperation from Punjab and Haryana in resolving certain issues, including an outer ring road and mass rapid transport system (MRTS). Lt-Governor of Delhi Anil Baijal stressed on better cooperation among states in the region.
Cities