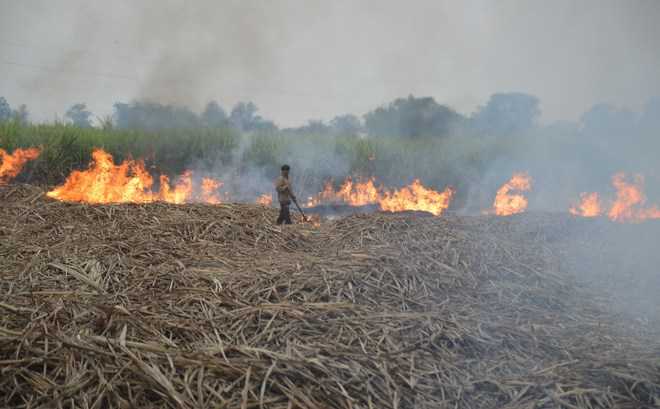 editorial@tribune.com
Mahesh Sharma
Mandi Ahmedgarh/Payal/ Raikot, October 9
The administration has launched coordinated movement to check burning of stubble during ensuing paddy harvesting season in the region.
While nodal officers have been deployed at each paddy-growing village for identifying violators, social activists, Guardians of Governance (GOGs) and lambardars have been asked to persuade farmers to shun the practice of stubble burning.
The Ahmedgarh SDM, Vikramjeet Singh Panthey, the Raikot SDM, Dr Himanshu Gupta, and the Payal SDM, Sagar Setia, have drafted foolproof strategy to ensure zero tolerance towards environmental pollution by burning agricultural residue, including paddy stubble, during the ensuing harvesting season.
Acknowledging completion of the arrangements the Ahmedgarh SDM, Vikramjeet Singh Panthey said, "Rank and file in the Revenue Department have been advised to ensure that facilities and benefits of policies and schemes launched for the welfare of farmers are provided only to those cultivators, who obey rules laid down for disposal of agricultural waste, including paddy stubble and straw."
"Besides advising officials concerned to take preventive and punitive steps in the matter, we have also asked office-bearers of social and constitutional bodies, GOGs and lambardars to persuade farmers of their areas not to burn agricultural waste at any cost," he added.
Elaborating on the subject the SDM Raikot, Dr Himanshu Gupta, said nodal officers had been deployed at the village level, who would keep a close watch on any violation of the guidelines of the government on disposal of paddy straw and stubble.
"Besides appointing nodal officers at the village level we have appointed one officer as coordinator for 10 units. All the coordinators will be submitting daily data in qualitative and quantitative form to subdivision level coordinators," Dr Gupta said adding that violating cultivators would be challaned.
Gupta claimed that the initiative taken by the administration would prevent fire-related accidents and health problems caused due to burning of the stubble.
Earlier, the State Agriculture Department had identified more than 8,000 paddy growing villages in a move to check stubble burning. Deputy Commissioners were asked to depute officials for spreading awareness on dangers of stubble burning for health and environment.
In compliance with the orders of their respective Deputy Commissioners subdivision level officers have now made proactive arrangements to check the menace.