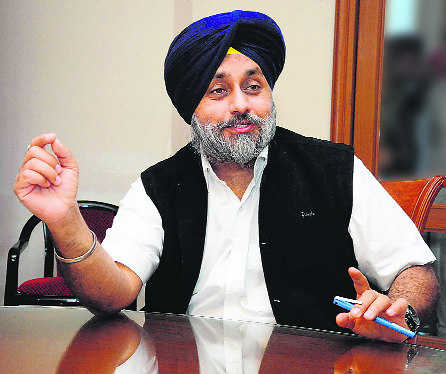 editorial@tribune.com
Deepkamal Kaur
Tribune News Service
Jalandhar, October 2
With the bypoll to four Assembly constituencies in Punjab just three weeks away, the strained relations between the SAD-BJP owing to their split in Haryana can have an impact on the result of at least two seats here.
While the BJP candidates are contesting on two seats of Doaba – Phagwara and Mukerian, the other two of Dakha and Jalalabad fall in the SAD kitty. While the Akali Dal's indifference may not matter much to the BJP as it does not have much base in Mukerian, it surely will dent the party on Phagwara seat, which has a large Sikh population in 91 villages falling in its periphery. Likewise, if Dakha remains unaffected due to no involvement of the BJP, the SAD surely needs its support in Jalalabad.
To date, the Akali leaders of Doaba have been sitting back and are not participating in any campaign of the BJP for the two seats in the area. Youth Akali Dal general secretary Sarabjot Sabi, who hails from Mukerian and had last month organised a membership drive there, is reportedly working in Dakha for the past few days and is not participating in any activity of BJP candidate Jangi Lal Mahajan.
Likewise, SAD leaders of Phagwara, including Markfed former chairman Jarnail Singh Wahid, Senior Deputy Mayor Surinder Singh Walia and Deputy Mayor Ranjit Singh Khurana, are not attending any events of the BJP, including the opening of the party's poll office on Wednesday. Though Wahid was present with BJP candidate Rajesh Bagha during the filing of his papers on Monday, they have not been seen along thereafter.
Akali councillor Baljinder Singh Thekedar who filed his nomination as an Independent is yet to withdraw his papers, the last day for which is Thursday.
Senior Akali leader and popular Dalit face of Doaba Pawan Tinu too has not been going to the reserved seat of Phagwara. All SAD leaders are reportedly awaiting directions from the party chief on whether or not to join campaign for the BJP seats. "We will wait for directions post the coordination committee meeting in Jalandhar on October 5," SAD leaders said. The meeting is slated to be held at Country Inn Hotel at 3 pm.
The leaders also said, "The game started from the BJP side. They joined our party MLA. BJP leader from Amritsar Tarun Chugh was present during his joining. The BJP leaders should have at least exercised some restraint but they issued all kinds of anti-SAD statements in the media. Chugh talked of ethics on the part of our SAD chief in 2014. Another BJP leader said former Chief Minister Parkash Singh Badal never reacted but his son did not seem to have learnt politics from him. In such a scenario, when our leaders are being let down by the BJP, how can we go out and campaign for their candidates?"