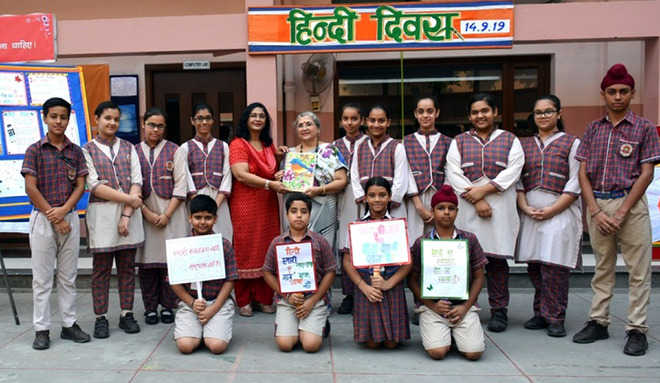 Tribune News Service
Amritsar, September 14
Hindi Divas was celebrated with much fanfare in the city on Saturday. Every year, September 14 is celebrated as Hindi Divas to mark adoption of the Hindi language as official language of the nation. The day is meant to celebrate the language. Experts deliberated upon aspects of the official language, its growth and need to promote the language.
The day was marked at the District Library, Amritsar, with Bharat Vikas Parshad Central, Mission Aagaaz. Key speakers of the day were Rajni Dogra and Prof HS Walia. Students of St Sarangdhar Senior Secondary School presented their impressive creations.
Dr Prabhjot Kaur, District Librarian, said, "With advent of digital world, many people, including the young ones are connecting with the language at their own level. Hindi language has come long way."
Stressing on need to promote language and changes in academic circles, Sonia Ahuja, a Hindi teacher at Shri Ram Ashram Public School, said, "There is a requirement that Hindi is made interesting to students, so that they get attached to the language. "
Students of DAV Public School also celebrated the language by showing their love and reverence to it by pledging to take pride in their national language. They recited poems and spoke about history and importance of the language. They emphasised the words of Dr Rajendra Prasad who believed that Hindi as a language can unite the nation. The 23rd edition of the school's Hindi magazine 'Tinke' was released on the occasion.
The magazine is released every year to commemorate Hindi Divas. The handwritten magazine showcases the creative work of Class X students.
Fest on career counselling begins at Shri Ram School
A two-day International University Fest -2019 began at Shri Ram Ashram Public School here on Saturday.
The fest is being organised to help students select their respective careers and to enlighten the parents about variegated career options available for their children. Sartaj Singh Chahal, Assistant Commissioner of Police, formally inaugurated the fest by lighting the pious lamp amid sacred mantras.
Career guidance fiesta was exclusively opened for school students. Educational institutes such as Anant National University, Gujarat, Ansal University, Gurugram, Ashoka University, Haryana, Bennett University, Gurugram and BML Munjal University were among the prominenet varsities participated in the fest. More than 600 students of other prestigious CBSE and ICSE schools of the city from grade IX-XII will participate in the fest on Sunday.
Top Stories