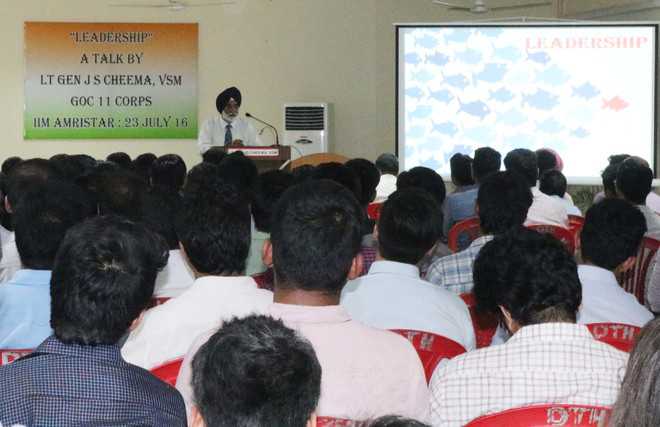 Tribune News Service
Amritsar, July 24
Students of the IIM Amritsar campus got a firsthand account of how a leader should think, act and own responsibility during a special session conducted by one of the Army veterans, Lt-Gen Jagbir Singh Cheema (retd).
He started his conversation citing the Battle of Saragarhi, one of the most courageous last stand battles in history and engaged students with various insights on leadership.
"In Army, every soldier is subjected to grass-root level tasks to make them aware about how things are done. It is very important for a leader to be aware of his roles and functions of his team," he said.
A man of a strict demeanor and compassion, he shared excerpts from the 36 years of his life as a soldier in the defence forces. "I am averse to the idea of the people being born leaders. I believe you inculcate the qualities required in becoming a good leader. A good leader should have three highlighting qualities – knowledge, character and people skills. He must be brave, selfless and own responsibility of his actions," he said.
The meeting was conducted as a part of IIM's industrial interaction programme and was followed by a question and answer session.