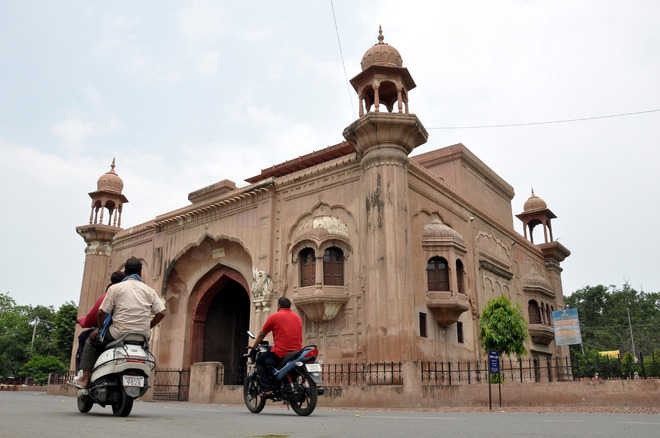 Neeraj Bagga
Tribune News Service
Amritsar, July 16
After the Archaeological Survey of India (ASI) allowed photography at its monitored sites, barring three, in the country, tourists are a happy lot. They can be seen clicking pictures at the two heritage sites in the district.
As many as seven sites in the region, including two in the district, have been thrown opened for photography for tourists.
Talking to The Tribune, officials of the ASI stated that the protected monuments in the holy city are Rambagh Summer Palace and its Deorhi, which is its southern gate. There are two protected sites in neighbouring Tarn Taran district, namely Serai Amanat Khan and Serai Fatehabad, where only Darwaja has survived near Goindwal Sahib. Both serai (inn) fall on the old Grand Trunk road, which was built by Sher Shah Suri and they used to offer resting space for travellers.
There are two historic sites in Shamsher Khan tomb and Anarkali Baradari in Batala of Gurdaspur district. Famous Takht-i-Akbari, where Akbar was coronated, is in Kalanaur village of this district.
Narayan Phule, a tourist from Maharashtra, said it is a welcome move by the government to permit photography at the protected monuments. "I came here after travelling thousands of miles. Photographs and video clips taken during the trip will take me back to my travelling period at Rambagh Summer Palace, associated with legendary Maharaja Ranjit Singh."
A heritage lover, Naresh Johar, said tourism is a major industry in the city. However, the arrival of tourists to these protected monuments was low. Now, the state tourism department must publicise these sites among the visitors to make them popular.