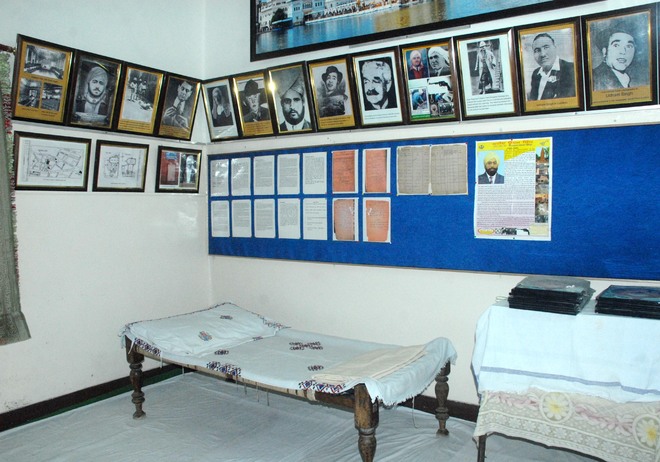 Neha Saini
Tribune News Service
Amritsar, July 31
The first things you notice when you enter the small room at the Central Khalsa Orphanage, once inhabited by Shaheed Udham Singh, are the walls. Every inch of the walls in that room give us a peek into the life of the legendary nationalist and revolutionary. Celebrating his 75th martyrdom day, the 350 children and staff at the orphanage too do not spare a moment, telling stories about his childhood and later years, almost matching the passion he might have felt for his motherland.
Turning his room into a small museum, his memories at the orphanage have been preserved by the management. The walls bearing pictures of the Jallianwala massacre that pushed him on the revolutionary path to the close-up shots taken by the media while he was being taken away after the shooting of General O'Dwyer, a portrait decorated with flowers and some old photographs of his early years acquired through some donors are all there. One corner of the room has a cot, on which he used to lie and the other corner has some brass and bronze utensils, used at the time. One corner of the wall is dedicated to the copies of the FIR filed against him by the British when he was convicted with the murder of General O'Dwyer. "We have ensured that every piece of his memory is kept alive and preserved for future generations. Every year, we organise an ardas and the children participate in commemorative programmes to honour his sacrifices and deeds," says Gurcharan Singh, Deputy Superintendent at the orphanage.
According to the records, Udham Singh was brought to the orphanage at the age of five years in 1907 along with his elder brother, Sadhu Singh. Both received new names as Sher Singh became Udham Singh and Mukta Singh became Sadhu Singh. He stayed at the orphanage and completed his matriculation before leaving in 1918. The management is now planning to expand the museum by adding to the memorabilia.
Top News
Last month, the US District Court Central District of Califo...
Upadhyay was hit on her left thigh and was admitted to a pri...
According to the woman officer, she had searched for a groom...
Gursimran Singh, 29, recently lodged an FIR with the distric...