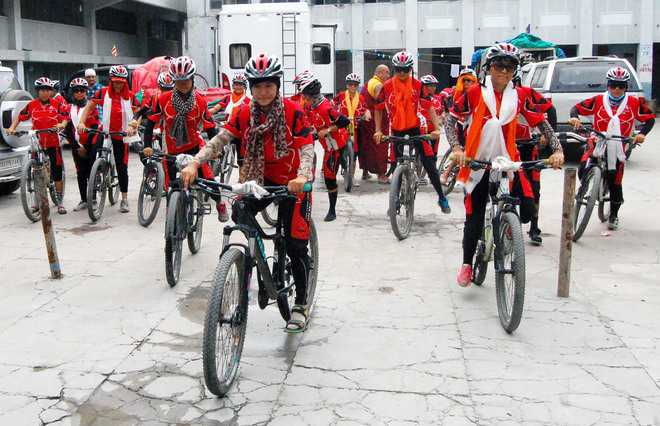 Tribune News Service
Amritsar, August 1
Led by His Holiness Gyalwang Drupka, 200 bicyclists, including 150 nuns and monks, from the Druk Amitabha Mountain Nunnery in Kathmandu, Nepal, reached Amritsar on their way to the Hemis monastery in Ladakh. The group has been travelling across different states covering 2,500 km, spreading the message of women empowerment and environmental concerns in the Himalayan region.
Reaching Amritsar late Sunday evening, the eco-riders visited the Golden Temple, where they were received by Harcharan Singh, chief secretary, SGPC. The group comprises Buddhist monks from Bhutan, Nepal, Sikkim, Ladakh and Lahaul Spiti.
Beginning this leg of their 4th Eco-Bicycling Buddhist Campaign, the group will start for their onward ride to Ladakh. This entire expedition shall take 75 days. According to Gyalwang Drupka, the current spiritual head of the 800-year-old Drupka order, the annual 'bicycle pilgrimage' is more about living in harmony with nature by using environment-friendly vehicles. "The expedition is a way of showing to people the strength of women, physically, mentally and spiritually," said the active environmentalist and proponent of women equality. He is the founder of the Druk White Lotus School in Ladakh and the 'Live to Love' global humanitarian movement.
He also wrote on the visitors book at Golden Temple that he was truly blessed by the Gurus for having visited the Golden Temple. He said that gurdwaras along the route had been opening their doors to them and they had been overjoyed by doing seva in the langar kitchens.
Gunbir Singh, President, Dilbir Foundation, who facilitated their visit, said the Buddhist group felt that visiting the Harimandir Sahib was a milestone in their journey from Kathmandu to Ladakh.
The Kung Fu Nuns
Dressed in red and black gears with shaved heads and possessing a will to break stereotypes, the 150 nuns from the Drupka order have been busy fixing punctures, interacting with village women on their way and even shooing off unnecessary attention. The 'Kung Fu Nuns', as they are popularly called since the Gyalwang Drupka initiated the learning of martial arts at their monastery for women in 2008, clean, cook and do their daily chores at the monastery while also taking on more administrative tasks. Kung fu, they say, has given them confidence and mental strength, apart from breaking the clichéd idea that being a nun is all about meditation.
They helped build villages after the devastating Nepal earthquakes and undertake this arduous cycle expedition every year to spread the message of women empowerment along the way.