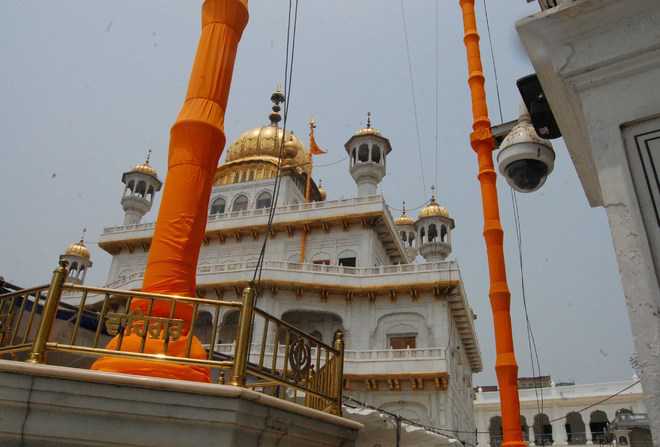 PK Jaiswar
Tribune News Service
Amritsar, June 19
The closed circuit television cameras (CCTVs) installed at the Golden Temple complex have proved a boon for the authorities as these have helped in nailing culprits in recent incidents of child abduction from premises of the holy shrine.
The police successfully solved a case with arrest of kidnappers and recovered a child within 24 hours of abduction. Not only this, CCTVs have also helped in nailing hundreds of thieves, who used to steal belongings of devotees, coming to pay obeisance at the shrine.
With over one lakh people paying obeisance at the Golden Temple daily, the holiest Sikh shrine has become a favourite place of unscrupulous elements for carrying out their nefarious activities.
The shrine has witnessed three abduction cases. Two of them were reported in one month recently. Five-year-old Vishu was kidnapped from the shrine when he got separated from his father outside Langar Hall a couple of days ago.
In the CCTV cameras footage, he was seen with a woman who took him with her. Pictures were immediately flashed in the media and within 24-hours the police recovered the boy and arrested the woman.
On May 23, three-month-old child of a Ferozepur-based couple was abducted from the shrine. However, the accused woman, Rajni, was arrested from Ludhiana railway station after three days. After scanning the CCTV footage of cameras installed at the temple, the police identified the woman and released her pictures in which she seen taking the child away. This helped the Ludhiana police in identifying and arresting the woman.
A similar incident occurred in June 2013, when unidentified women kidnapped a minor boy identified as Gurmilap Singh in the midnight, when he was sleeping with his parents. The entire incident was captured in CCTV cameras, after which messages were flashed across the district. It forced kidnappers to abandon the boy with shorn hair near another shrine in the city. In this case the kidnappers could never be identified and arrested.
On an average a thief is caught everyday from the shrine. Since the installation of the CCTV cameras hundreds of thieves have been nabbed by staff of the Shiromani Gurdwara Parbandhak Committee (SGPC) and the police. Among the areas where thefts are reported frequently, include Dukhbanjani Beri, Lachi Ber, Darshani Deori etc.
According to the SGPC authorities over 200 cameras, including HD cameras, have been installed in every nook and corner of the Golden Temple. A control room has been set up at Parikarma from where the SGPC staff keeps an eye on each and every movement of the people entering the Golden Temple.
Shiromani Gurdwara Parbandhak Committee additional secretary Daljit Bedi said the CCTV cameras had definitely helped committee and the police to nail anti-social elements since their installation in 2011. He said complaints of theft had come down considerably. While expressing concern over repeated instances of child abduction, he said it was comforting that the accused involved in such cases were now behind bars.