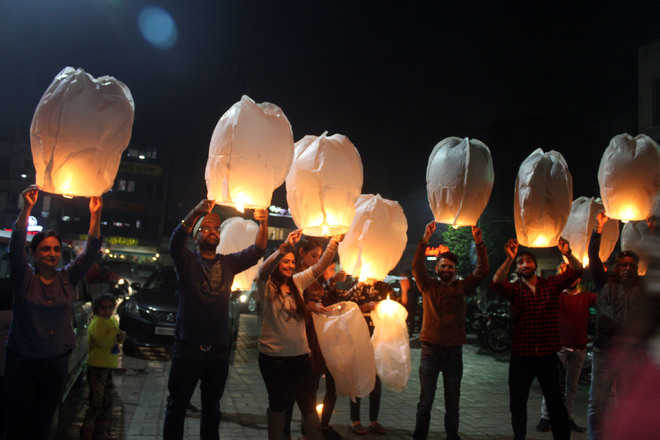 Tribune News Service
Amritsar, November 13
Not new to featuring in records books, city choreographer duo Pankaj and Preeti once again attempted a record feat. Keeping up with the ongoing festivities of the 550th Parkash Purb of Guru Nanak Dev, the noted choreographers lit up the sky with 135 parachute lamps. They attempted to get maximum number of sky lanterns up. The duo was joined by their students, family members and Amritsar North MLA Sunil Dutti.
"The idea behind this was to do something that reflects the sentiments prevailing during the 550th Parkash Purb of Guru Nanak Dev. It was a tough task to get such a high number of lanterns up in the sky, given the windy conditions. We lit up 150 sky lanterns, out of which 135 managed to stay lit even after reaching height. We have to wait for a few months to know the results," said Pankaj Vig.
The team already has three records registered in their name, one being in the Guinness Book for choreographing largest Bollywood fan dance performance with 650 women two years back. Before that, they had managed to create record of choreographing largest Bollywood dance performance by over 9,000 students at Khalsa College. The event was held to create awareness on drug abuse.
"We want to highlight social issues in a unique way, by attempting to make records. Its challenging but we have a great team to work with. We want to make the sky lantern activity an annual affair. We plan to go bigger the next year by lighting up atleast 1,000 sky lanterns on Gurpurb," said Pankaj. Next on their agenda is a kite flying activity on Lohri. "It will definitely be in line with our other activities and an attempt to create awareness against the use of harmful Chinese strings."